Database Update: Pharmaceutical Drug Production in Russia (September 2019)
Tuesday, October 29, 2019
Between January and September 2019, Russia manufactured 295 bln RUB worth of pharmaceutical drugs (manufacturers' prices, VAT included), which is monetary terms (rubles) 22% higher than that in the same period in 2018. This is also the highest dynamics since 2016. The dynamics in physical terms (units) are +4.7%, or +4.2% if calculated in minimum dosage units (MDU). While these dynamics are far from those in 2016, these can still be considered high after the constant negative dynamics during 2017-2018.
Despite the positive tendencies, the results for every month are not as stable. However, the dynamics in monetary terms have been high since June 2019, with +35% in September. While those are not the best dynamics this year, the record-worthy dynamics of +61% in April 2019 was achieved due to different seasonal trends in the periods of comparison.
The dynamics of the OTC drug production for the period are -1.4% in physical terms, or -4% if calculated in MDUs, which is the result of fewer doses in a unit. Among the top 20 manufacturers with the largest OTC production volumes, Samaramedprom and Ivanovo Pharmaceutical Plant have the highest dynamics (+39% and +31%, respectively). The production volumes of Samaramedprom's Pertussin, Terebinthin Ointment and Vaseline have increased by 9.4, 3.5 and 3.4 times, respectively. The production of Natrii Tetraboras and Ammonia by Ivanovo Pharmaceutical Plant has increased by 7.9 and 2.8 times, respectively.
As for Rx drugs, the dynamics in physical terms are +14.5%. While the number of unit doses have also decreased, it is not as prominent as with OTC drugs. Among the top 20 Rx drug manufacturers with the highest dynamics, Gedeon Richter is the leader (+73%) with its Verospiron (more than 5 times increase). It is followed by Kraspharma with the dynamics of +49%. The production volume of its Ortocid has increased by 5.2 times, as well as of Cefazolin by 7.2 times.
Read more about pharmaceutical drug production in Russia (August 2019) here: http://rncph.com/news/26_09_2019
Dynamics of pharmaceutical drug production in Russia, including production of pharmaceuticals of foreign companies on owned or contract plants, in physical (units) and monetary terms (RUB, VAT included) (January 2018 – September 2019)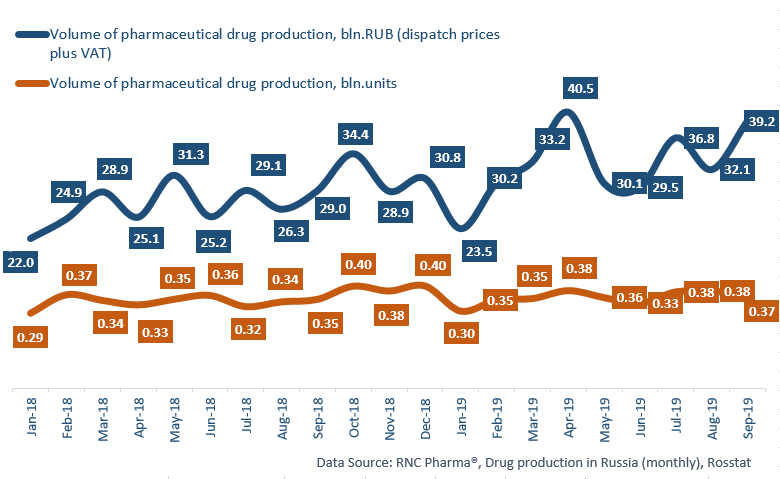 Share: