Database Update: API Import to Russia (November 2019)
Friday, January 31, 2020
Between January and November 2019, Russia imported 118 bln RUB worth of APIs (customs clearance prices, VAT included), which is in monetary terms (rubles) 35.6% higher than that of the same period in 2018. The dynamics in physical terms (tons) are +12.9%, with 12 thousand tons. Price rises are obviously the main growth factor here.
The import structure has changed considerably, with commercial APIs now accounting for 4% of the import in monetary terms, which is the highest since 2015, against 2.3% in 2018. In physical terms, however, commercial APIs account only for 2.8% of the total import; the percentage of commercial APIs has been gradually descending since 2017.
The import line has been expanding, too. Between January and November 2019, Russia was importing 808 APIs against 778 in 2018. Lopinavir+Ritonavir 16.7%+4.2% (around 2.1 bln RUB) and Narlaprevir (0.7 bln RUB) are the new APIs worth mentioning. Lopinavir+Ritonavir is imported by Abbvie for the localized manufacture of Kaletra at the facilities of R-Pharm in Yaroslavl. Narlaprevir is imported by R-Pharm for the manufacture of Arlansa. The number of imported INNs has also increased from 568 to 580.
Among the top 30 imported APIs, Dydrogesterone Granules and Pantoprazole Sodium Sesquihydrate have the highest dynamics in monetary terms (imports grown by 298 and 176 times, respectively). Dydrogesterone Granules is imported by Abbott for the localized manufacture of Duphaston at the facilities of Veropharm in Belgorod. Pantoprazole Sodium Sesquihydrate is imported by four different companies, with KRKA accounting for the largest volume.
Metformin Hydrochloride and Magnesium Stearate (imports grown by 3.7 times) have the highest dynamics in physical terms. Between January and November 2019, Merck imported more than 118 tons of Magnesium Stearate. The import of Seawater has grown by 2.6 times, to 232 tons. Solopharm imports nearly 70% of the volume, while the rest is imported by Nizhpharm. Both Solopharm and Nizhpharm import from France from different companies.
Dynamics of pharmacopoeial and commercial API import to Russia, customs clearance prices (2016 – 2018, January – November 2019)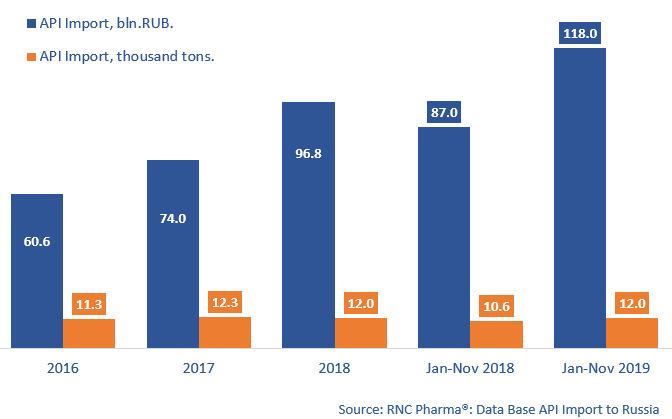 Share: