Veterinary Vaccine Import to Russia (September and Q1 – Q3 2020)
Thursday, October 29, 2020
Vaccines, the most important group of veterinary drugs, take up nearly 45% of the total import of veterinary products in monetary terms. Between January and September 2020, Russia imported more than RUB 10.55 bln worth of veterinary vaccines (customs clearance included), which is in monetary terms (rubles) 13.8% higher than in 2019. At the same time, the dynamics of veterinary import are only +7%.
Despite the high dynamics in monetary terms, the dynamics in physical terms (units) are negative, -0.4%, with the import volume of 5.44 mln units. If calculated in doses, the dynamics are even lower, -5%, and the import volume amounts to 35 bln doses.
The September dynamics in monetary terms are +36.6% and -2.4% in physical (doses). The dynamics in physical terms, albeit negative, are still much better than those in August 2020 (-29%).
The import of the smallest group – combined vaccines – has the highest dynamics in monetary terms (+48%), which was due to changes in the import line (Russia did not import vaccine Cattlemaster by Zoetis in January–September 2019), as well as in the prices. In particular, the price of Hiprabovis by Laboratorios Hipra has increased by nearly 13%.
The import of live vaccines has gone up by 35% in monetary terms, but has dropped by 16% in physical. The imports of MV-1 by Phibro Animal Health, vaccine for infectious bursae disease in poultry, and the Innovax vaccines by MSD have grown by 8.5 times, which is the highest dynamics among the top 20 trademarks with the largest import volume. Innovax ILT, vaccine for infectious laryngotracheitis and Marek's disease in poultry, contributed to the dynamics of MSD the most.
As for inactivated vaccines, the dynamics are exactly the opposite: 13% in monetary and +14% in physical terms. The import of vaccine for porcine circovirus Circo Pigvac by Daesang Microbiological has the best dynamics among the top 20 trademarks (imports grown by 6.7 times in monetary terms). The import of two vaccines by Ceva Santé Animale (France) also have high dynamics; the imports of vaccine for clostridiosis Coglamune and the Sevac vaccines have increased by 5.2 and 3.7 times, respectively.
Dynamics of veterinary vaccine import to Russia (EEU countries excluded), free circulation prices (customs clearance and VAT included), 2016 – 2019, Q1 – Q3 2020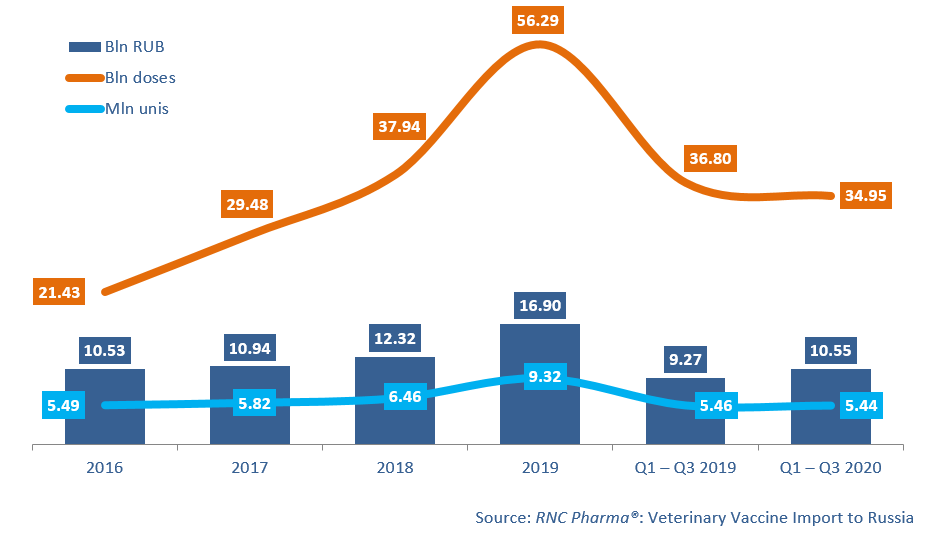 Share: