Survey by RNC Pharma and Doktor Na Rabote (Doctor at Work): 41% of Doctors Support Legalization of Online Pharmacy
Tuesday, October 29, 2019
17% of doctors believe that it is time that online sale of pharmaceutical drugs in Russia became legal, since it is not only convenient for consumers, but has long been an objective reality that cannot be ignored, according to an online survey by the RNC Pharma analyst company and the Doktor Na Rabote (Doctor at Work) social network for doctors.
Another 24% of the respondents support the legalization of online pharmacies because they will help increase the availability of drugs care for the population. One-third (33%) of the respondents are ready to support the online sale of over-the-counter drugs only. Overall, 73% of the doctors in one form or another support online pharmacy.
Only 10% of the respondents are against it, and another 17% of the doctors believe that online drug sales will contribute to aggravation of the problem of self-medication and that is why oppose this innovation.
Should online sale of drugs be legal, in your opinion? (single answer question)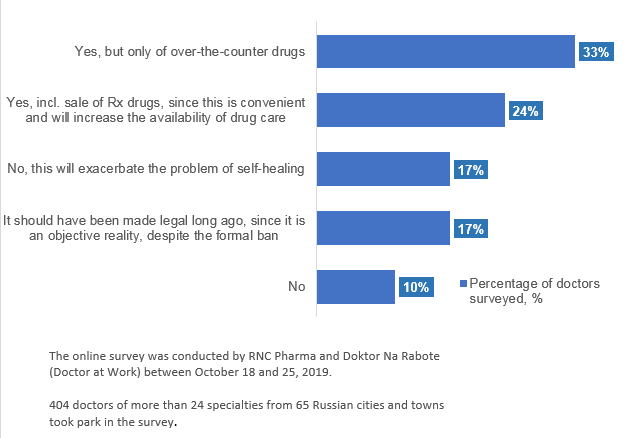 Share: