Pharmaceutical Drug Production in Russia (August 2021)
Wednesday, September 29, 2021
In January—August 2021, Russian manufacturers produced RUB 384.7 bln worth of pharmaceutical drugs (manufacturer's prices, VAT included), up 23.2% from January—August 2020. In physical terms, the production volume amounts to 2.65 billion packages, with the growth rate of -14.7%. If calculated in minimum dosage units (MDU), the growth rate is -5%, and the production volume is 51.2 billion MDUs.
August saw way better results than the average in the past 8 months. Russia produced RUB 57.3 billion worth of pharmaceuticals, up 32.1% from August 2020. In physical terms, the growth rate has managed to get positive for the first time in 6 months, with +1.1%. If calculated in MDUs, the growth rate was +20.1%.
The growth rates were still different for both drug types, with that for the OTC drug production -20% and +8.5% for the Rx drug production. While the consumer packages for both types have gotten larger, the change was more noticeable for OTC drugs, which made the growth rates in MDUs more similar: -6% for OTC drugs and -4.5% for Rx drugs.
Only two companies in the top 20 have ten-fold growth rates. The first one is a branch of the Gamaleya Research Institute of Epidemiology and Microbiology, Medgamal, with its Gam-COVID-Vac and Sputnik Lite; the production on its own and contract plants increased 212 times against August 2020. The second one is Velpharm, doubling its production over the year thanks to its key product Azythromycin. The drug accounted for every 7th package manufactured by the company, and its production increased 29 times against 2020. The production of Diclofenac for injections, grew 23 times against August 2020. Dalkhimpharm has the worst growth rates among the top 20 companies, with -15% in physical terms, mostly due to the production of Dimedrol falling by 73%.
As for OTC drug manufacturers, Valenta has the best growth rates of +55% in physical terms. The production of Grammidin and Trimedat contributed to the growth rates (increased 2.8 and 2.7 times, respectively). Notably, the company maintained the production of Ingavirin at a high level, which fell by only 2%. Valenta is followed by Pharmstandard (+29%). Its Acetylsalicylic Acid and Arbidol contributed to the growth rates—the production grew 2.2 and 2.1 times, respectively. Hippocrates has the lowest growth rates with -80%, since the production of every product dropped. Hawthorn Tincture and Motherwort Tincture, as well as Salicylic Acid Solution had the worst drop.
Volumes of pharmaceutical drug production in Russia, including production of pharmaceuticals of foreign companies on owned or contract plants, in physical (packages) and monetary terms (RUB, VAT included) (January 2020–August 2021)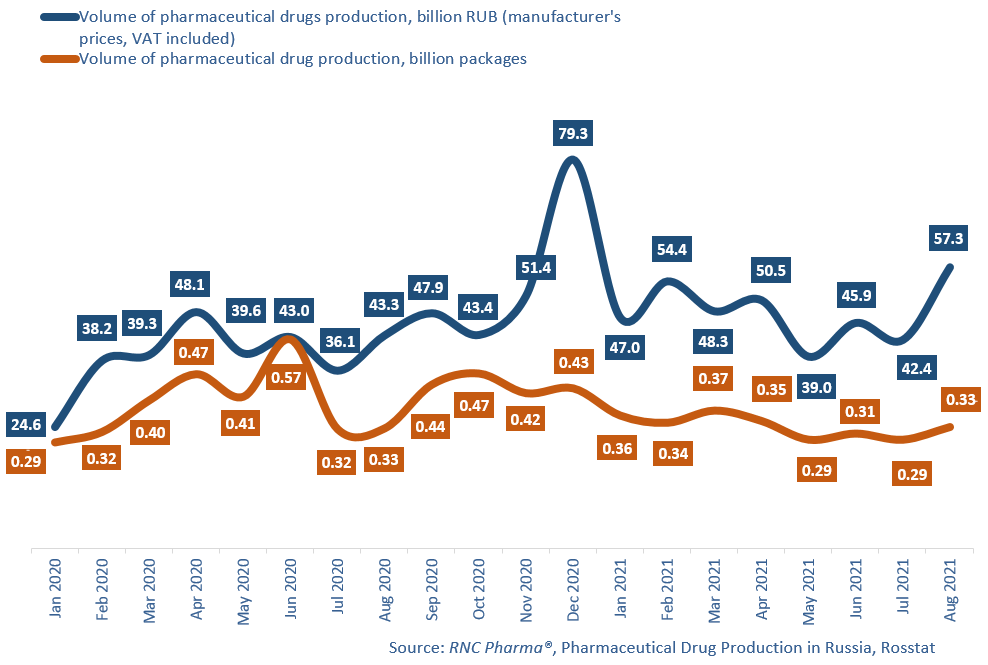 Share: