Import of Veterinary Drugs and Feed Supplements to Russia (June and Q1–Q2 2022)
Friday, July 29, 2022
In January–June 2022, Russia imported 18.5 billion rubles' worth of veterinary drugs (customs clearance and VAT included), down 5% from the same period in 2021. The import of feed supplements was 21.9 billion rubles, up 4.1% from January–June 2021. In physical terms, the growth rates were negative for both groups: –1.3% for veterinary drugs, with 15.7 million packages imported, and –15.5% for feed supplements, with 68,000 tons imported.
June pretty much followed the path of the previous months. The growth rates in monetary terms were –16% for veterinary drugs and –30.5% for feed supplements. In physical terms, however, the import of veterinary drugs grew 14.8% (in packages), while the import of feed supplements dropped 25.3% (in tons).
The number of importers of veterinary drugs in the first half of 2022 went down from 95 a year earlier to 82. Despite the number, it was mostly relatively small companies that left the market, with the largest being Gallows Green (Great Britain), which accounted for about 0.5% of the import. Besides, imports stopped back in November 2021, meaning this has nothing to do with the sanctions. The share of the manufacturers that suspended imports this year was only about 2%.
Laboratorios Maymo (Spain) had the best growth rates in monetary terms among the manufacturers of veterinary drugs importing to Russia in January–June 2022; its imports grew 19.2 times against January–June 2021. Its antibacterial drugs for livestock animals, in particular Doxigran and Enrogran, contributed to the company's growth rates the most. Another Spanish company, Biokorm International, comes second (imports grew 6.4 times). The import of antibacterials for livestock, Amoxivet and Amoxigran, helped the growth rates.
As for manufacturers of feed supplements, their number dropped even more, from 227 to 177. While it was, again, mostly smaller companies that stopped its imports, they accounted for around 6.5% of the total import volume. Britz (Malaysia) had the highest growth rates among those companies that stayed. The company's imports went up 42.7 times against January–June 2021; its PolyFAT A600, a supplement for increasing the energy value of feeds, contributed to the growth rates the most. Britz is followed by Ningxia Unisplendour (China). The imports grew 39 times thanks to DL-Methionine.
Growth rates of the import of veterinary drugs and feed supplements to Russia (EEU countries excluded), free circulation prices including customs clearance and VAT (2017–2021, Q1–Q2 2022)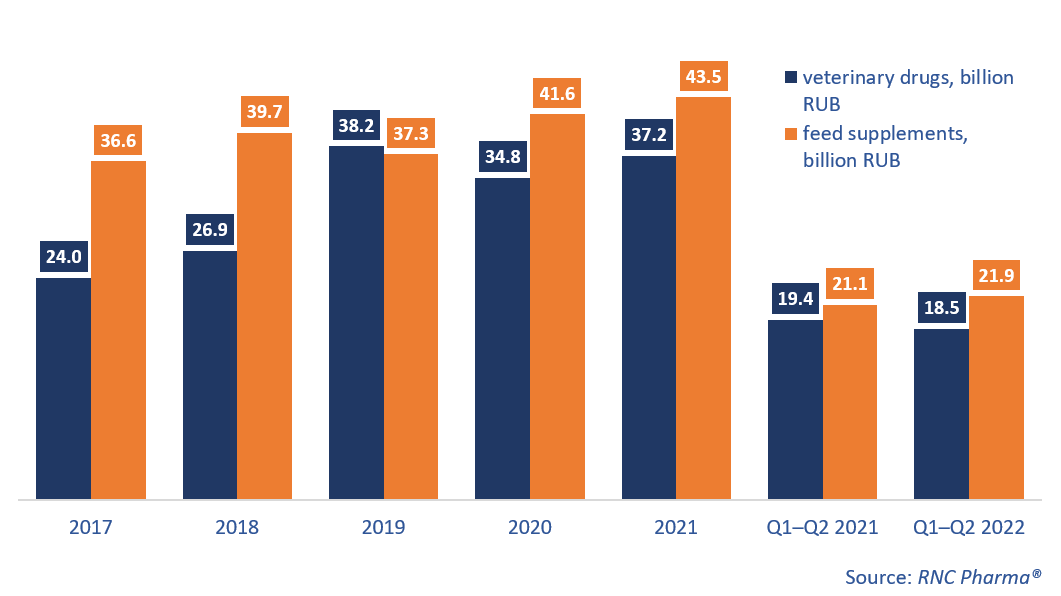 Share: