Database Update: Audit of Veterinary Drug Retail Sales in Russia (May 2022)
Wednesday, June 29, 2022
From January to May 2022, the offline sales of veterinary drugs in the Russian retail market were 9.1 billion RUB (retail prices, VAT included), down 0.2% from January–May 2021, which means that the market is stagnating, pressured by the online segment. In physical terms, the volume was 56.6 million minimum dosage units (MDU), down 18.4% in MDUs.
In May 2022, the sales volume was 2 billion rubles, 18% down from April 2022, signifying the end of the so-called "high season." However, the yearly growth rate was negative as well, –8.7% in monetary terms, showing how the new consumer behavior this spring, the rush demand, and stocking up in March–April 2022 affected consumption. The general dramatic consumption trends were even more clearly reflected in the growth rates in physical terms (down 29% from May 2021 in MDUs).
Russian manufacturers managed to climb back to 1st place in terms of sales in May 2022, accounting for 42.2% of the total sales in rubles. While consumers gave in to the hype and stocked up on foreign-made products in March–April, losing interest in Russian-made products, now they have returned to a normal consumption strategy, adjusted to the macroeconomic changes, which have so far been stimulating demand for Russian-made products. Nevertheless, Russian manufacturers of veterinary drugs placed second in January–May 2022, accounting for 37.5% of the total sales. American manufacturers came first, controlling 43.2% of the market.
In January–May 2022, Slovenian KRKA had the highest growth rates among the top 15 companies with the largest sales volumes. The company's sales grew 38% from January–May 2021, with antiparasitic Selafort and antimicrobial Enroxil contributing to the growth rates the most. KRKA is followed by Livisto Group (up 25%); its NSAID Petkam and antibacterial Doxifin helped the company's growth rates the most.
Ekoprom had the best growth rates among the top Russian manufacturers, with +11% in rubles. Its antiparasitic drug Helmintal contributed to the growth rates the most. Astrapharm and VetBioChem also had high growth rates (up 9%). The sales of Express Uspokin (grew 2.9 against January–May 2021) and Supramil (grew 3.6 times) helped the growth rates of Astrapharm. As for VetBioChem, the sales of Rabifel, a vaccine for the prevention of rabies in cats; increased by 95%.
The volume of the Russian retail market of veterinary drugs (online sales excluded) in monetary and physical terms (January 2021–May 2022)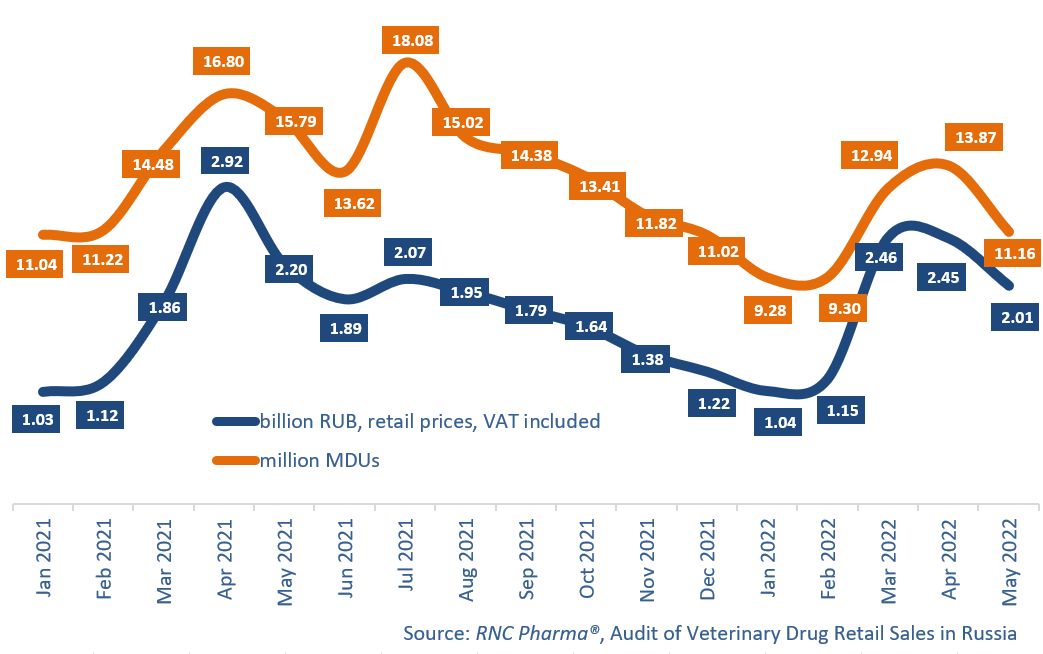 Share: