Database Update: Pharmaceutical Drug Production in Russia (April 2019)
Wednesday, May 29, 2019
Between January and April 2019, Russia produced 127.4 bln RUB worth of pharmaceutical drugs (dispatch prices, VAT included), which is in monetary terms (rubles) 26.3% higher than that of the same period in 2018. These high dynamics are due not only to inflation but also to high production volume in physical terms (+4.1%). Russian manufacturers dispatch nearly 1.39 bln units of pharmaceuticals over the period.
If calculated in minimum dosage units (MDU), the dynamics are +3.8%. While the dosage forms did change, it did not have a big impact on the dynamics. Russian manufacturers dispatched 23.8 bln MDUs over the period. It was April that had the main impact on the dynamics in physical terms (+17.2% in units and +15.2% in MDUs). The dynamics in monetary terms are +61% for April 2019, which is the highest monthly dynamics since December 2013.
The dynamics of Rx import are +8.7%, while those of OTC import are only +1.1%. Since the dynamics used to be negative, the results can be considered a success. Rx drug companies Kraspharma and Solopharm have the highest dynamics in this category for the first 4 months of 2019, +84% and +54% in physical terms, respectively. Kraspharma achieved these results mainly by increasing production and dispatch of systemic antibacterial drugs. In particular, dispatch of Cefotaxime has grown by 3.8 times in physical terms, while that of Bactsefort (Cefoperazone-sulbactam) by 6.8 times. Solopharm continued to increase production of solutions for intravenous administration, in particular Ringer-Solopharm (a 4.4 times increase), Acesol (3.2) and Disol (3.1).
As for OTC drugs, Pharmstandard and Marathon Pharma have the best dynamics, +40% and +31%, respectively. Pharmstandard's high dynamics were achieved by higher dispatch of Citramon P (a 5.7 times increase) and Paracetamol (5.4). As for Marathon Pharma, the high dynamics were achieved by nose medicines; in particular, dispatch of Rhinorus (Xylometazoline) has doubled over the year.
Read more about pharmaceutical drug production in Russia (March 2019) here: http://www.rncph.com/news/24_04_2019
Dynamics of pharmaceutical drug production in Russia, including production of pharmaceuticals of foreign companies on owned or contract plants, in physical (units) and monetary terms (RUB, VAT included) (January 2018 – April 2019)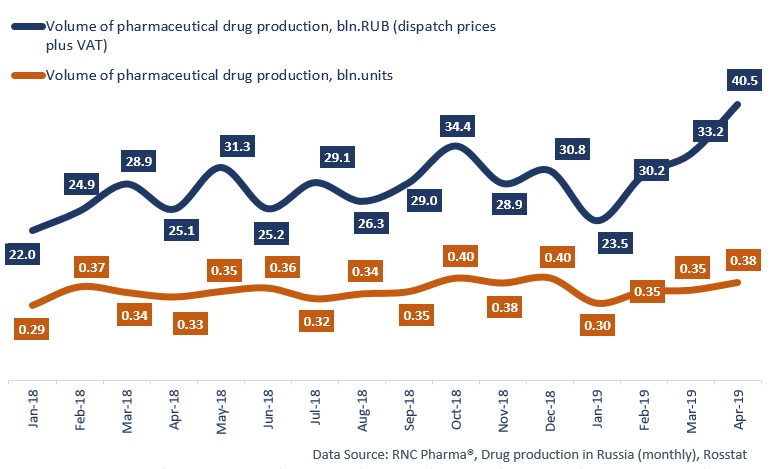 Share: