Database Update: Import of Veterinary Drugs, Feed Supplements, and Veterinary APIs to Russia (November 2019)
Wednesday, January 29, 2020
Between January and November 2019, Russia imported 33.1 bln RUB worth of veterinary drugs (customs clearance prices, VAT included), which is surprisingly higher than the import of feed supplements (32.5 bln RUB). The reason lies both in the sudden growth of veterinary drug imports (+41.7% in rubles) and the significant drop in feed supplement imports (-7.7%). The import of veterinary APIs still has the highest dynamics among the veterinary product imports (+66.3% and 2.9 bln RUB).
The dynamics in physical terms are pretty much the same as those in monetary terms; +45.6% for veterinary drugs, or 35.7 mln units, -3.5% for feed supplements, or 9.8 mln units, and +70% for APIs, or 1.27 tons.
Among the top 15 manufacturers of veterinary drugs, all of which have positive dynamics, Zoetis (USA) and Laboratorios Maymo (Spain) have the highest dynamics (import grown by 2.7 and 2.3 times, respectively). Zoetis also become the top company in November 2019, having outdone the long-time leader MSD. Dog allergy medicine Apoquel and cattle vaccine Bovi-Shield contributed to Zoetis' dynamics the most (imports grown by 5.5 and 3.7 times, respectively). As for Laboratorios Maymo, their top product is Doxygran (import grown by 5.8 times).
Evonik is still the top company among the top manufacturers of feed supplements, although with the dynamics of -9%. Their import line lost Treamino and Bioliz in 2019. Despite the general drop in imports, Sumitomo (Japan) is one of the few companies with positive dynamics. The company placed 8th, having increased their import by 11.3 times. Between January and November 2019, Sumitomo was importing only DL-Methionine to Russia.
Shengli Bioengineering (Shandong, China) has the highest dynamics among the top 15 API manufacturers (import grown by 19.3 times). The company imports only Tiamulin Hydrogen Fumarate, which is in great demand by many Russian manufacturers. VIC Group accounted for 47% of the total import of Tiamulin between January and November 2019.
Dynamics of import of veterinary drugs, feed supplements, and veterinary APIs to Russia, free circulation prices including customs clearance, bln RUB (January 2018 – November 2019)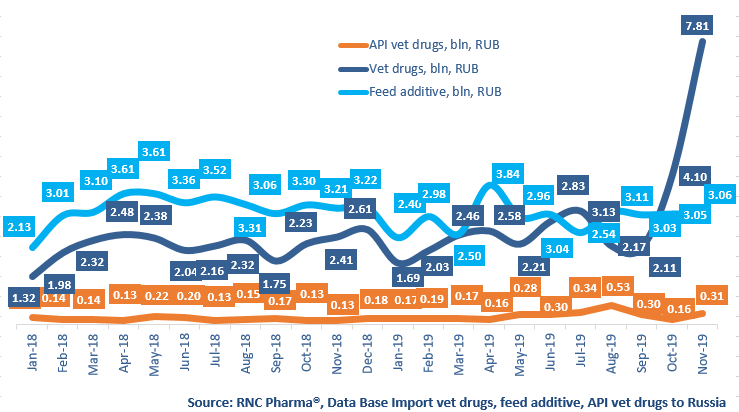 Share: