Database Update: Audit of Veterinary Drug Retail Sales in Russia (November 2021)
Tuesday, December 28, 2021
In January–November 2021, the sales of veterinary drugs in the Russian retail market amounted to 19.9 billion rubles (retail prices, VAT included), up 4.7% from January–November 2020. The offline segment is under severe pressure from the rapidly developing online business, since the online sales increased 3.2 times in monetary terms (rubles). In physical terms, the growth rate was –6.6% in monetary dosage units (MDU), with the total sales volume of 155.7 million MDUs.
The November growth rates were pretty much the same as those in October; –0.2% in rubles and –10% in MDUs. However, this November had all the signs of the so-called "low season." Compared to October 2021, the growth rates were –16% in rubles and –12% in MDUs.
Bravecto by MSD was the best selling drug among the top 20 trademarks in terms of sales volume. While it accounted for 12.9% of the sales in the offline retail market, the sales growth rate was only 3% in monetary terms. This, however, can be easily explained by the rapidly growing online segment—the online sales of Bravecto increased more than 5 times. (Read more about the online veterinary retail market here: https://rncph.ru/news/20_12_2021.)
Nexgard Spectra by Boehringer Ingelheim has the best growth rates in the top 20 (54%). Notably, it also has massive growth rates in the online segment (sales increased 7.4 times), which is an obvious result of active promotion. The company has a marketing strategy aimed at both offline and online segments. Interestingly, there are as many as four trademarks by Boehringer Ingelheim, but the other three products have far less impressive growth rates. Just like Boehringer Ingelheim, Zoetis has four products in the top 20, with high growth rates for each of them. The sales of insectoacaricide Simparica have the best growth rates (+38% in rubles), followed by antibiotic Synulox (+32%) and antipruritic Apoquel (+28%).
As for Russian manufacturers, Agrovetzashchita (AVZ) is one of the most prominent companies. The sales of its Bars line fell by 5% due to the consumers choosing online shopping over in-store, but it is still only on top 18 in marketplaces. Antiparasitic Inspector by Ekoprom has the best growth rates in January–November 2021.
Top 20 trademarks of veterinary drugs with the largest retail sales volumes (excluding online sales) in January–November 2021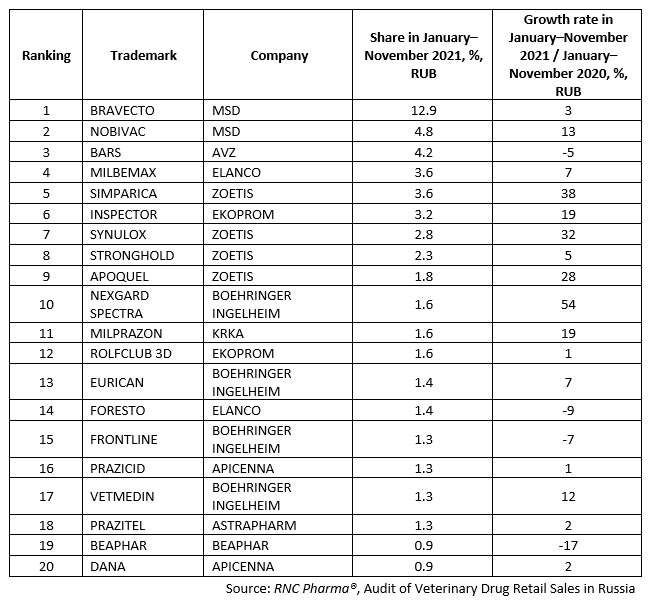 Share: