Import of Veterinary Drugs and Feed Supplements to Russia (December 2020)
Wednesday, April 28, 2021
Russia imported 34.5 billion rubles worth of veterinary drugs in 2020 (customs clearance and VAT included), down 8.4% in monetary terms (rubles) from 2019. The seemingly negative growth rate was due to the high-base effect, since back in 2019, the market players had stocked up their warehouses to get ready for the upcoming regulatory changes. As for feed supplements, the import volume amounted to 40.2 billion rubles, with the growth rate of +10.5%.
The import of veterinary products for pets decreased by 15% in monetary terms, and the import of veterinary products for livestock animals fell by only 6.5%. The import of feed supplements increased by 37% for pets and by 8.6% for livestock.
In physical terms, the import of veterinary drugs amounted to 31.8m units, or 113.2m MDUs (minimum dosage units). The growth rates, however, were negative for both: -20% and -34%. As for feed supplements, the growth rates were +6% in units and as high as +75% in MDUs.
Syva Laboratorios had the highest growth rates in monetary terms among the top 20 manufacturers of veterinary drugs, with the imports increasing 3.8 times against 2019. While the imports of the company's all 10 trade names increased considerably in 2020, the imports of antibacterials contributed to the growth rates the most, in particular, the imports of Mamifort and Forticlina went up 3.2 times and 2.1 times, respectively. Syva Laboratorios is followed by Zhejiang Dayang Biotech Group, which imported products of only two trade names, with the import of Enduro having the highest volume and growth rates.
As for the top manufacturers of feed supplements, CJ Selecta (Brazil) had the best growth rates in monetary terms; the company's imports went up 4.7 times. Only one product—soy protein concentrate X-Soy 600—was imported to Russia. Impextraco (Belgium) and Ajinomoto Group (France) had high growth rates as well, with the imports of both companies increasing 2.3 times. The import of Bipex H2 by Impextraco increased 8 times, while the import of L-Lysine HCL 99.0% Feed Grade by Ajinomoto Group went up 3.7 times.
Growth rates of the import of veterinary drugs and feed supplements to Russia (EEU countries excluded), free circulation prices including customs clearance and VAT (2015 – 2020)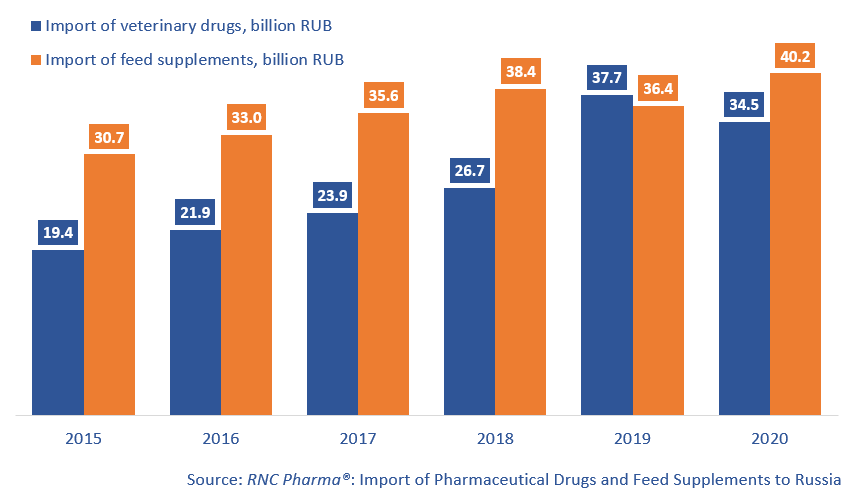 Share: