Survey by RNC Pharma and Doktor Na Rabote (Doctor at Work): 54% of Russian Doctors Say Doctor's Fate Should Be Decided by Special Medical Courts
Wednesday, October 27, 2021
Only 4.8% of Russian doctors agree with the existing legal system in the healthcare, according to a survey conducted by the RNC Pharma analyst firm and the Doktor Na Rabote (Doctor at Work) social media service for doctors. Nearly the same number of the respondents, 4.7%, believe that mistakes that caused harm to the life and health of the patient should lead to the suspension of the doctor's license. Blacklisting was the least popular answer option, with only 3.2% supporting such a measure.
Slightly more than a third of the study participants, 33.6%, say that doctors should be held administratively liable in any situation. Finally, the most popular answer, chosen by 53.7% of the respondents, was "All legal measures, including criminal, should be possible, but they must be determined by a limited-jurisdiction court."
The Russian judicial system provides for special courts, but the issues of prosecuting bona fide physicians and bringing unscrupulous specialists to justice can also be solved within the existing legal framework, provided there is an independent expert examination of medical decision-making, which is now in fact absent.
Notably, these answers did not have any statistically significant regional, gender, or age differences.
How should the doctor be held liable for mistakes that caused harm to the life or health of the patient? (single-answer question)
How would you assess the content quality on the continuing medical education (CME) website and in commercial additional education organizations? (single-answer question)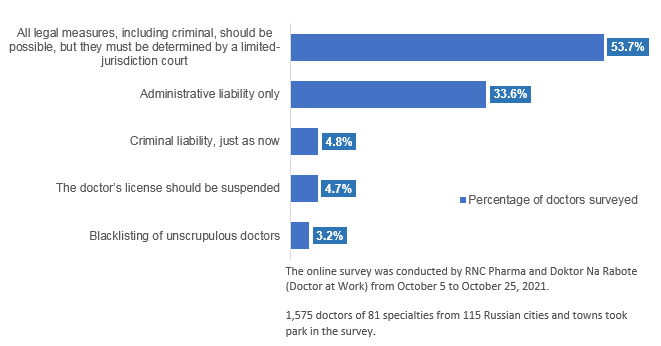 Share: