Import of Veterinary Drugs and Fed Supplements to Russia (September and Q1 – Q3 2020)
Tuesday, October 27, 2020
The dynamics of the import of veterinary drugs in monetary terms (rubles) in September have surged to +30%, when in July and August they were -1-2%. Between January and September, Russia imported RUB 23.7 bln worth of veterinary drugs (customs clearance and VAT included), which is in monetary terms 6.5% higher than in 2019. As for feed supplements, the September dynamics are -1.2%, which is good news after -18.4% in August. The import volume for the period between January and September amounts to RUB 30.2 bln, with the dynamics of +12.4%.
The dynamics in physical terms for the period are -7.8% for veterinary drugs, with the import volume of 23 mln units, and +10% for feed supplements, with the volume of 9 mln units.
There have also been serious differences in the import of veterinary products for certain animal types. The dynamics of the import of pet medications are -11%, while those of the import of drugs or livestock are +12%. While the dynamics of the import of feed supplements for both categories are positive, the import of feed supplements for pets has been increasing faster (+36% against +11% for livestock). However, the import volume of products for livestock exceeds that of pet products.
Hebei Hope Harmony Pharmaceutical (China) and Vethellas Holding (Greece) have the highest dynamics in monetary terms among the manufacturers of veterinary drugs (import have grown by 38 and 17 times, respectively). Both companies were importing livestock medications and antimicrobials contributed to the dynamics the most. The Chinese manufacturer was importing three trademarks, with antibiotic Oxytetracycline 20% LA accounting for most of the volume. The Greek company was importing two products, and penicillin antibiotic Pecivet accounted for the largest part of the import volume.
As for the manufacturers of feed supplements, Beaphar (Netherlands) and CJ Selecta (Brazil) have the best dynamics among the top companies (imports grown by 670 and 10 times, respectively). Beaphar was importing only products for pets; Beaphar Kitty's and Beaphar Kitty's Mix accounted for most of the import. CJ Selecta, which specializes in livestock, was importing only soy protein concentrate X-Soy 600.
Dynamics of import of veterinary drugs and feed supplements to Russia (EEU countries excluded), free circulation prices including customs clearance and VAT (2016 – 2019, January – September 2020)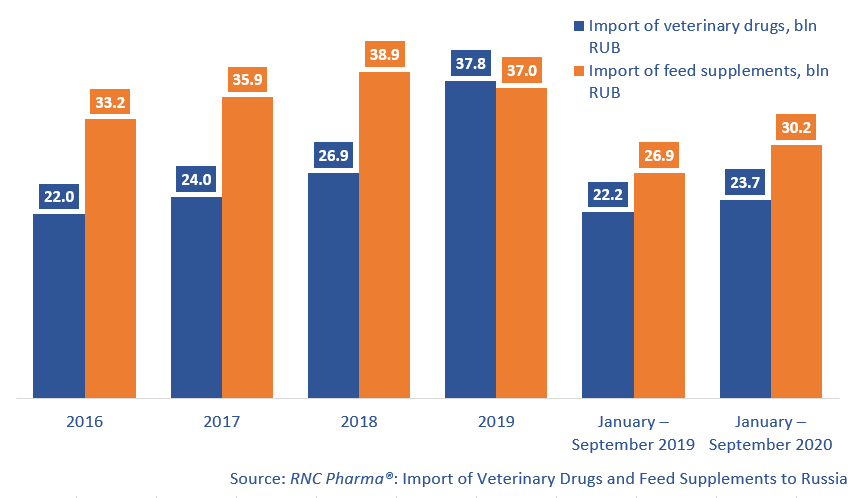 Share: