Database Update: Audit of Veterinary Drug Retail Sales in Russia (July 2021)
Friday, August 27, 2021
Between January and July 2021, the sales of veterinary drugs in the Russian retail market amounted to 13.1 billion rubles (retail prices, VAT included), due to inflation up 5% in monetary terms (rubles) from 2020, with the price index of 7.9%. In physical terms, the market volume amounted to 101.1 million minimum dosage units (MDU), down 4.5% from last year.
It is important to note that the growth rates differed from region to region. For example, in the Central Federal District (FD), which is leading in both monetary and physical terms, the growth rate in monetary terms for January—July 2021 did not exceed 1%. That was the lowest positive growth rate, with only the Volga FD (-3%) and the Far Eastern FD (-2%) doing worse. While the sales volume in the Central FD was negative in physical terms (-4%), this can hardly be called a failure. First, it is better than the average in Russia, and second, most other regions could not even get close to it.
The North Caucasian and Southern Federal Districts had the best growth rates in monetary terms (+42% and +13%, respectively). These Russian regions also showed the highest growth rates in MDUs, in fact helping prevent a global failure in sales (+68% and +13%). The Ural Federal District had the lowest growth rates in physical terms (-20%), with the Siberian FD not far behind (-18%).
The top-selling brands in monetary terms also depend on the region – besides the top 1. Insectoacaricide for pets Bravecto by MSD has been the most selling veterinary product in all regions, except for the Far Eastern FD, for several years in a row. As for the Far Eastern FD, the top 1 is an insectoacaricide as well, but of Russian production – Bars by AVZ. The top 2 products are mostly different; for example, in the Central FD it is Milbemax by Elanco, in the Volga FD it is Bars again, in the Southern FD Nexgard Spectra by Boehringer Ingelheim, etc. In the Far Eastern FD, the second most selling veterinary drug is Nobivac from MSD, and Bravecto is only the top 4.
As for physical terms, the top-selling products are more or less the same here. In exactly half of the regions antimicrobial drug Synulox by Zoetis is the top 1, while anthelmintic Alben by AVZ is the most selling veterinary drug in the other regions. The Phytoelite line by Veda holds second place in 5 federal districts at once, with Phytoelite Healthy Kidneys (for the prevention and treatment of diseases of the genitourinary system) and auxiliary drug for the treatment of neoplasms Phytoelite Metastop maximum accounting for the largest sales volumes.
The volume of the Russian retail market of veterinary drugs in monetary (end user prices, VAT included) and physical (MDU) terms (January–July 2021)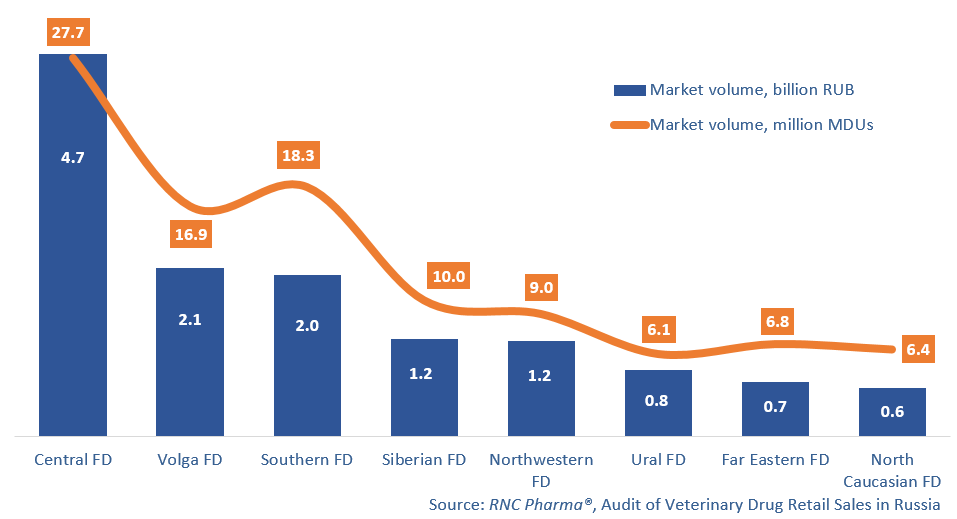 Share: