Database Update: Audit of Veterinary Drug Retail Sales in Russia (April 2022)
Friday, May 27, 2022
In January–April 2022, the offline sales of veterinary drugs in the Russian retail market were 7.1 billion RUB (retail prices, VAT included), up only 2.5% from January–April 2021, while the growth rate was as high as 16% back in January–March 2022. In physical terms, the volume was 45.4 million minimum dosage units (MDU), down 15.2% in MDUs.
In April 2022, the sales volume was 2.4 billion rubles, 16% down from April 2021. In fact, the typical seasonal surge in sales came a month earlier than usual, in March, due to the rush demand after the special military operation in Ukraine began. One year ago, with normal seasonality, the rush demand started in April. Interestingly, the sales volume in April 2022 was practically the same as in March—0.3% down, but that is still within the limits of observational error. All that shows that the spring surge in demand not only occurred one month earlier, but also took up two months at once.
However, this process differed from region to region. For example, while in the Central and Far Eastern Federal Districts the sales in March–April 2022 went down 3%, the sales surged by 20% in the Siberian FD. Climate, as much as psychology and economy, played an important role here.
The demand for Russian-made drugs plummeted in March 2022, when Russian products accounted for 29% of the sales in monetary terms. In April 2022, however, the share went up, reaching 36.2%, which is close to the usual share in the spring, albeit not record-worthy.
KRKA had the best growth rates (38%) in January–April 2022 among the top 15 manufacturers with the largest sales volumes. The company's antiparasitic drug Selafort contributed to the growth rates the most, with its sales increasing by 89% over the year. KRKA is followed by Livisto Group (24%); the sales of its antibacterial Doxifin went up by 92%, contributing to the growth rates.
Eight Russian companies at once, which is more than a half, entered the top 15, although only three manufacturers showed significant sales growth rates. Ekoprom had the highest growth rates of 15%; the sales of almost every product of the company went up, and its anthelmintic and antiparasitic drug Helmintal (+29%) contributed to the growth rates the most. Agrobioprom with its +13% came second, mostly thanks to the sales of anthelmintic Fenpraz (+40%). Astrapharm rounds up the top 3 (+11%); its Countersex NEO (sales went up 25%) contributed to the company's growth rates.
The volume of the Russian retail market of veterinary drugs (online sales excluded) in monetary and physical terms (January 2021–April 2022)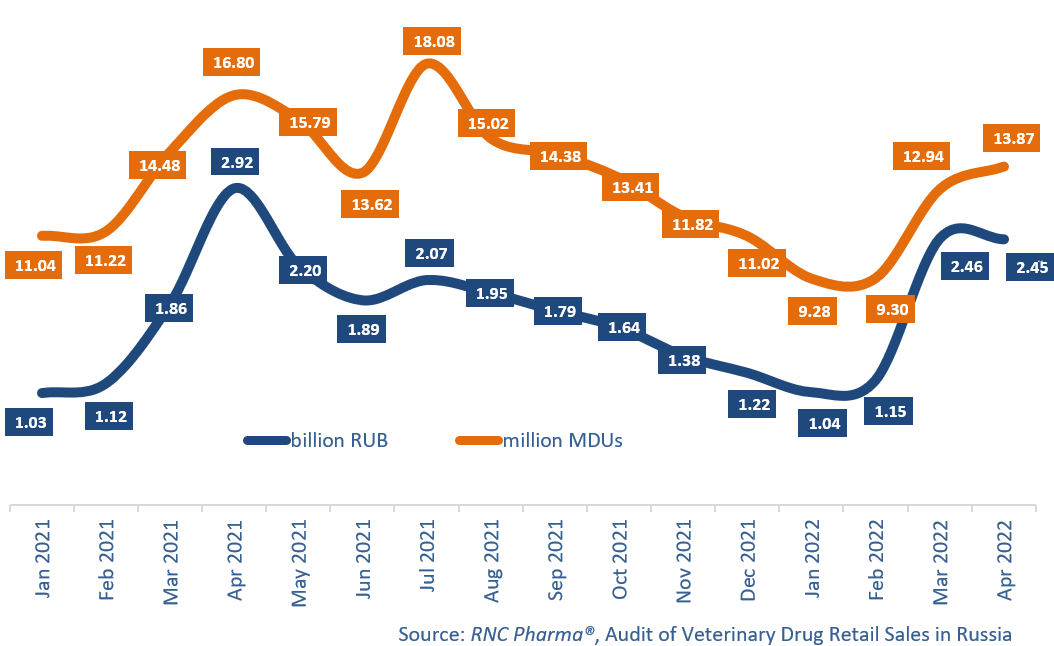 Share: