Database Update: Import of Pharmaceutical Drugs Made in EEU Countries to Russia (February 2019)
Wednesday, March 27, 2019
Between January and February 2019, Russia imported nearly 1.7 bln RUB worth of pharmaceuticals made in the EEU countries (wholesale prices, VAT included), which is in monetary terms 74.3% higher than that of the same period in 2018. In physical terms, the dynamics are +85.8%, with 42.2 mln units.
Over the period, 11 companies were importing to Russia, against 8 in 2018. Among the top companies with the highest import volume in monetary terms, Kelun Kazpharm (Kazakhstan) has the best dynamics, with an 8 times increase, which is most likely due to the poor results of 2018. Over the period, Kelun-Kazpharm was importing 6 products, with Sodium Chloride (solution for infusion) accounting for 68% of the company's total import. Minskintercaps has the lowest dynamics (+7.3% in monetary terms); its Aevit vitamins and cold symptom drug Angricaps contributed to the dynamics.
Between January and February 2019, Russia was importing 73 trademarks, 10 trademarks fewer than in 2018. Among the products that Russia was not importing over the period, Cholenzym by Belmedpreparaty and Protamin-Insulinum by Alvils topped the import list between January and February 2018.
Read more about import of pharmaceutical drugs from EEU countries to Russia (January 2019) here:http://www.rncph.com/news/27_02_2019
Dynamics and volume of import of pharmaceutical drugs made in the EEU countries to Russia, wholesale prices, VAT included (2016 – 2018, January – February 2019)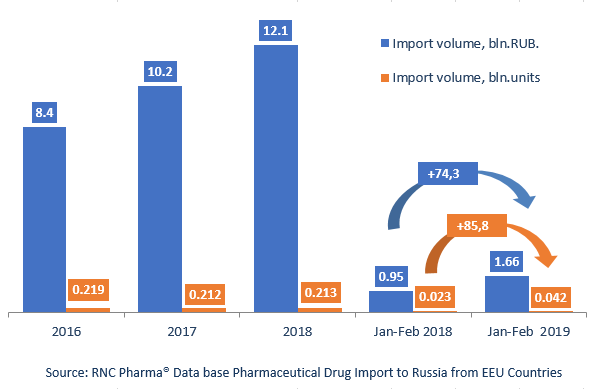 Share: