Ranking of Russian Pharmacy Chains (Q1 – Q3 2019)
Tuesday, November 26, 2019
This year, the rather modest dynamics in monetary terms (rubles) demonstrated by the Russian pharmaceutical retail was in fact positive only due to price increases. The dynamics in physical terms, especially of over-the-counter drugs and parapharmaceuticals, continues to drop, which has become nearly common. In addition to stagnating household incomes, the non-pharmacy segment, which systematically steals consumers from conventional pharmacies, is also a significant problem. Online marketplaces are actively increasing in number as well, and foreign players are also trending. In particular, American iHerb announced their plans to open an office in Moscow, which is hardly good news for the Russian pharmaceutical retail.
Regulatory innovations also promise little good; a moment of truth regarding the abolition of UTII is expected next year. The abolition of UTII is connected to the launch of the marking system, which will most likely not start working before July 2020. A respite might be useful here, since it will allow to change the tax regime without any shock or collapse. However, the profitability of relatively small regional pharmacy chains is expected to fall as a result.
It seems like only a very limited number of players can understand how to increase the profitability if the fiscal methods become unavailable. The option to put themselves up for sale does not look promising. Large business owners can simply wait until the small business they would like to buy closes itself, since time does not work in favor of small business. Larger pharmacy chains have been rubbing their hands for a long time, of course, waiting for more space and opportunities for development.
When the demand is limited, large chains do not have a huge variety of opportunities either, hence very bizarre formats, such as POS credit service in the Samson Pharma pharmacies in cooperation with MTS Bank. Most of the media painted the service as socially motivated, but this is obviously a purely business move designed to stimulate demand for the upper price segment goods, especially parapharmaceuticals.
Tab 1. Top pharmacy chains in the Russian pharmaceutical retail market (Q1 – Q3 2019)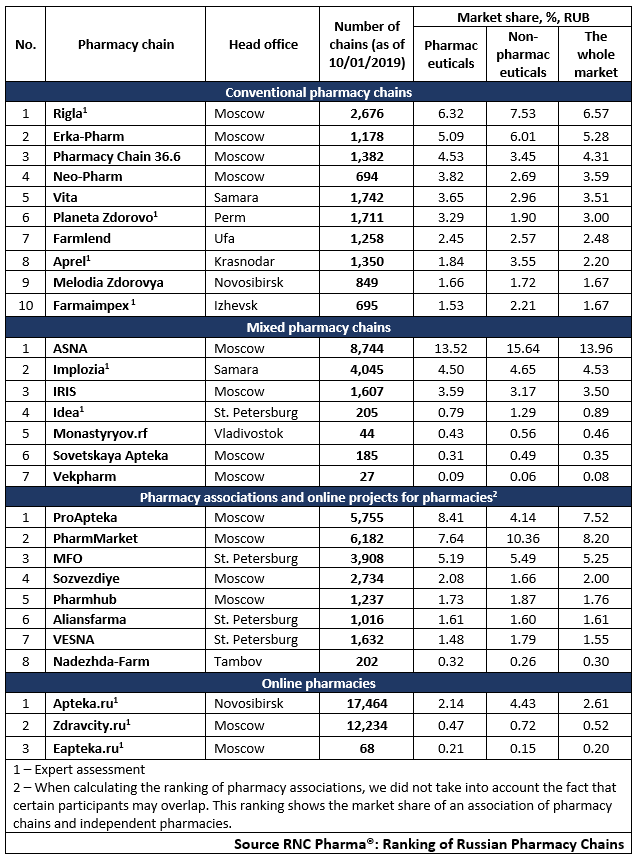 Share: