Database Update: Import of Veterinary Drugs, Feed Supplements, and Veterinary APIs to Russia (April 2018)
Tuesday, June 26, 2018
Between January and April 2018, Russia imported 19.3 bln RUB worth of veterinary products (free circulation prices). The import of feed supplements amounted to 10.6 bln RUB, with a 14% increase in monetary terms. The import of veterinary drugs follows with 8 bln RUB and a 16% increase, while the import of veterinary APIs amounted to 0.62 bln RUB and a 13% increase.
In physical terms, the dynamics of the import of veterinary drugs, feed supplements, and veterinary APIs are -4%, -12%, and -17%, respectively.
Volac International (Great Britain) is the biggest supplier of feed supplements over the period, with a 34 times increase. The company exports only Megalac, milk production booster.
Dong Bang Co. (South Korea) is the biggest supplier of veterinary drugs, with a 19 times increase. It exports 6 products, mostly Dinorin, which is used for treatment of the cattle fertility issues.
As for veterinary APIs, Amicogen Biopharm (China) is the leader with a more than 17 times increase. Ceftiofur Hydrochloride, used for treatment of livestock diseases, contributed to the dynamics.
Dynamics of import of veterinary drugs, feed supplements, and veterinary APIs to Russia, free circulation prices including customs clearance, bln RUB (January 2017 – April 2018)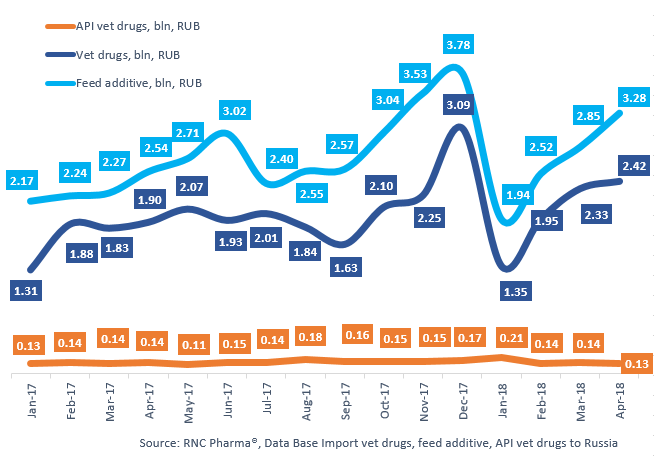 Share: