Ranking of Russian Pharmacy Chains (Q1 2021)
Wednesday, May 26, 2021
Another wave of consolidation processes was the highlight of May 2021 for the so-called "big" Russian retail. May saw three major transactions at once: Magnit is purchasing Dixy, Lenta is acquiring Billa, and finally a large association will be formed for by consolidating certain aspects of the activities of three regional retailers in Siberia and the Far East – Krasny Yar, Samberi and Slata.
While those processes do not have anything to do with the pharmaceutical retail at first glance, economic conditions for all consumer markets are the same and hardly favorable. There are industry-specific features, of course, but the pharma retail has enough of their own problems this year. That means the consolidation process is sure reach the pharmaceutical retail as well.
It would be more accurate to say that it has already started. After a few individual purchases in 2020, the current year may see at least one global deal: the Katren distributor plans to acquire a controlling stake in the Erkapharm group. If Erkapharm's operating activities merge with Katren's subsidiary chain Melodia Zdorovya then, it will easily be able to claim first place in the ranking of conventional pharmacy chains. It will hardly be possible to skip activity optimization after the transaction, but given the difference in formats and relatively small overlap in terms of regional representation, it is unlikely that the network will shrink much. Taking into account the fact that Katren and its other retail assets (Apteka.Ru and the Partner association), the deal could seriously change relations both in the retail and wholesale markets.
It is interesting that Sberbank, one of the initiators of the sale of Erkapharm, plans to continue developing their Sber Eapteka service by opening of new pharmacies in their Sberbank offices. It is clear that this is an experiment so far, but it is necessary to invest into their offline branch in order to develop their online service, especially when it comes to regional expansion.
In the light of the development of online services, another major player comes to mind. Probably one of the last to show interest in the pharmaceutical segment, AliExpress Russia joined Vse Apteki, a partnership of Mail.ru Group. By the way, AliExpress had a little earlier launched the sale of veterinary drugs, but in the form of a classic marketplace, not through an aggregator./p>  
Tab. Top pharmacy chains in the Russian pharmaceutical retail market (Q1 2021)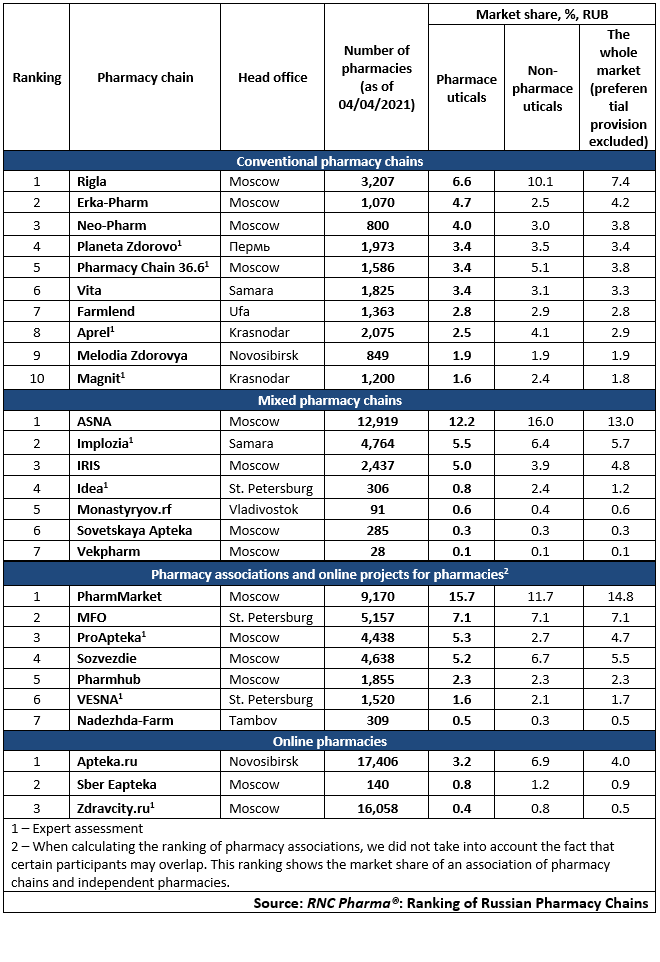 Share: