Database Update: Import of Pharmaceutical Drugs Made in EEU Countries to Russia (March 2019)
Thursday, April 25, 2019
Between January and March 2019, Russia imported 2.6 bln RUB worth of pharmaceuticals made in the EEU countries (wholesale prices, VAT included), which is in monetary terms 49.6% higher than that of the same period in 2018. The dynamics in physical terms are +61.2% (65.3 mln units).
Over the period, Russia more often imported pharmaceutical drugs in smaller dosage forms. If calculated in minimum dosage units (MDU), the dynamics are nearly +34%. This trend is not true for the whole import line, for example, in 2019 Russia has been more often importing Sodium Chloride (100, 200, and 250 ml) in 1-dose unit form than in 30-, 40-, and 120-dose unit forms.
However, the import line has lost 11 trademarks and is now comprised of 88. Among the pharmaceuticals that are no longer imported, Protamin-Insulinum by Alvils used to contribute to the dynamics the most. The dynamics of Alvils in monetary terms are -83%. Heparin by Belmedpreparaty has the highest import volume in monetary terms, +27%. Sodium Chloride by Kelun-Kazpharm (Kazakhstan) and by Borisov Plant of Medical preparations (Belarus) follows, its import has grown by 7.6 times. Ceftriaxone comes third with a 2.8 times increase. It was imported by Belmedpreparaty and Borisov Plant of Medical preparations.
Read more about import of pharmaceutical drugs from EEU countries to Russia (February 2019) here:http://www.rncph.com/news/27_03_2019
Dynamics and volume of import of pharmaceutical drugs made in the EEU countries to Russia, wholesale prices, VAT included (2016 – 2018, January – March 2019)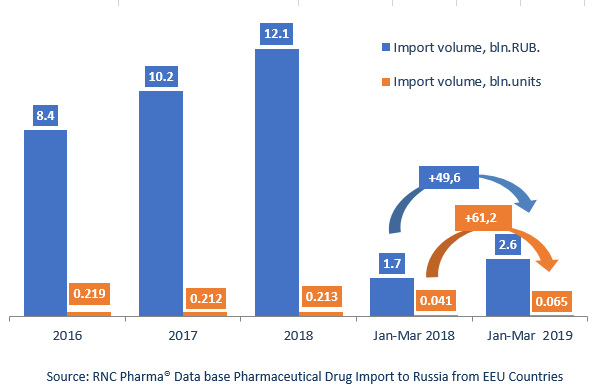 Share: