2019 Ranking of Russian Pharmaceutical Distributors
Tuesday, February 25, 2020
Despite the relatively good results of last year, the overall profitability in the supply chain leaves much to be desired. First of all, this concerns the retail segment of the market, since the growth in 2019 is significantly lower than inflation, without any positive outlook, apart from the coronavirus, which might somewhat stabilize the situation. In addition, the Russian pharmaceutical retail market decided to follow the "big retail" and enter the era of global transformation together with the online segment.
These factors directly affect the wholesale companies, too. In late 2019, it was reported that the marketplace Beru had launched the process of obtaining a pharmaceutical license for wholesale activities. The company seem to be preparing for the legalization of the online pharmaceutical drug sale, which will allow the company to engage in the drug sale without having to partner with Protek, at least for a limited list of drugs, in the promotion of which manufacturers are willing to invest marketing budgets. The American iHerb also opens its own logistics warehouse in Russia, and this most certainly involves indirect losses to the Russian pharmaceutical market. The online sale of dietary supplements is now one of the reasons for curbing demand for the OTC category in the offline trade, especially pharmacies.
It is no secret that the profitability of classical distribution is actually controlled by the pharmaceutical industry, or rather by a more or less limited circle of large corporations. The parties concerned try to avoid direct confrontation, especially since now is not the time for global strategies to diversify wholesalers, and not all Russian wholesalers can afford it. That, of course, does not cancel tactical decisions. For example, in mid-January BSS announced the development of a new direction, the sale of reagents for laboratory research, while the GDP company, wholesale branch of the Pharmacy Chain 36.6, after having become a supplier of preferential treatment drugs in the regions, decided to go to the federal level, in particular as a supplier of Alemtuzumab as part of the High-Cost Nosologies list.
Competition strategies as part of a company's core activities are also relevant, since large companies are actively investing to strengthen and develop their presence in the regions. For example, in late 2019 Protek announced the construction of a logistics complex in Tatarstan, and Puls opened a warehouse complex in Yekaterinburg in January 2020.
Tab 1. Top 15 pharmaceutical distributors with the largest market share of direct pharmaceutical drug shipments (including preferential shipments), in monetary terms (2019)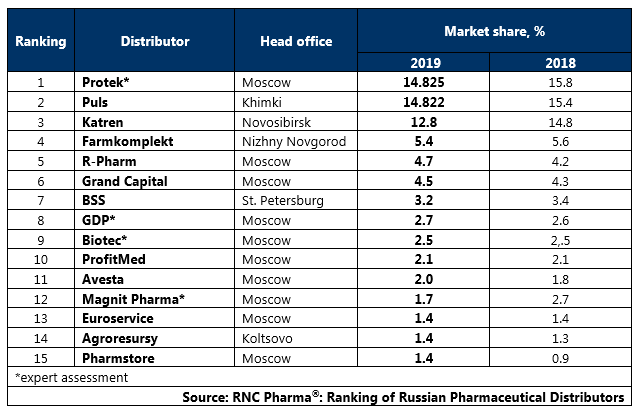 Share: