Database Update: Import of Pharmaceutical Drugs Made in EEU Countries to Russia (April 2019)
Friday, May 24, 2019
Between January and April 2019, Russia imported over 3.6 bln RUB worth of pharmaceutical drugs made in the EEU countries (wholesale prices, VAT included), which is in monetary terms (rubles) 37.8% higher than that of the same period in 2018. In physical terms (units), the dynamics are +46.3%, with 85.4 mln units of pharmaceuticals.
Despite the impressive dynamics, the growth rates in April 2019 somewhat slowed down in both monetary and physical terms. However, the EEU manufacturers and their Russian partners are way ahead of Russian manufacturers in terms of activity, despite the increasing state procurements earlier this year.
The import line for the period underwent little to no change. This is true only for trademarks though; the dosage form list has grown considerably. Between January and April 2019, Russia imported 174 different SKU, while it was 161 in 2018. Among the new drugs on the list, Viasan-LF (Sildenafil) by Lekpharm (Belarus) and Sevoflurane-Vial by Alvils Holding (Russia), which is also manufactured by Pharmland (Belarus), are noteworthy.
The top 3 companies are still the same: Belmedpreparaty (Belarus) with 35% of the total EEU import, Borisov Plant of Medical preparations (Belarus) with 27%, and Kelun Group (Kazakhstan) with 15%. Dynamics are inversely proportional to share in the total import. The import of Kelun Group has increased by 5 times in monetary terms, while the import dynamics of Belmedpreparaty are only +4%, and the import dynamics of Borisov Plant of Medical preparations are +37%.
As for trademarks, the absolute leader is Sodium Chloride, 97% of which is exported to Russia by Kelun Group. It is also the company's key product exported to Russia. The import of Glucose has grown by 29 times in monetary terms; it has the highest dynamics for the first 4 months of 2019.
Read more about import of pharmaceutical drugs from EEU countries to Russia (March 2019) here:http://www.rncph.com/news/25_04_2019
Dynamics and volume of import of pharmaceutical drugs made in the EEU countries to Russia, wholesale prices, VAT included (2016 – 2018, January – April 2019)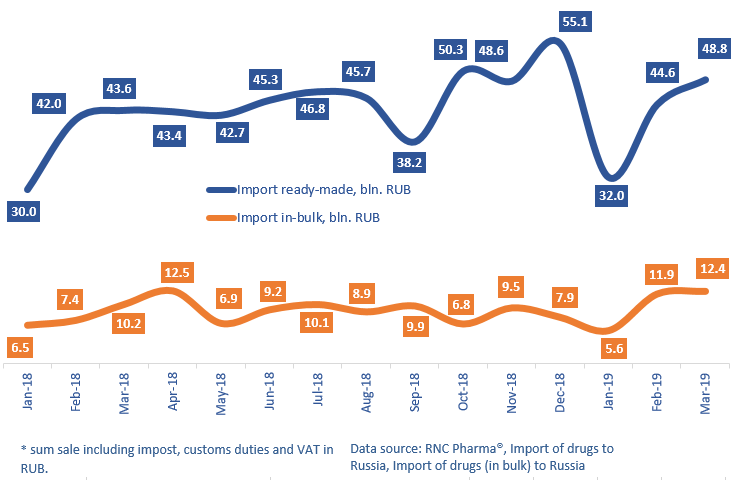 Share: