2020 Ranking of Russian Pharmacy Chains
Sunday, February 21, 2021
January 2021 saw an occasion, curious in every aspect, which is the capitalization of the Russian Internet retailer Ozon exceeding the stock market valuation of the X5 Retail Group. It is noteworthy that the revenue of the companies for 2020 differs by more than 10 times. Moreover, Ozon did not plan to pay dividends in the near future. In fact, the company was given a truly huge credit of trust, which was naturally fueled by the boost of e-commerce last year.
Both companies, in different formats and at different times, showed interest in the Russian pharmaceutical retail, although did not directly participate in the main events in last year. Russian banks set the tone here: first Sberbank merged with Eapteka, and a little later Gazprombank became a minority shareholder of ASNA. Despite the different forms of transactions, those two deals have a lot in common; the banks chose to invest in businesses almost fully associated with e-commerce. On the one hand, this is also a kind of credit of trust, on the other, quite a clear stake on the format, which is a good challenger to become a locomotive for the development of both Russian retail and Russian pharmaceutical retail in the coming years.
At the same time, the classic retail has not become obsolete, especially if we take into account the artificial restraint of the development of e-commerce in the pharmaceutical industry. But the regulations, fueled by the current economic problems, do not provide grounds for active development of the offline retail, either in terms of infrastructure or services. For example, Sberbank, on the one hand, has invested in pharmaceutical e-commerce, on the other, has been initiating the possible sale of Erkapharm, one of the leaders of the classic pharmaceutical retail in Russia, according to media reports.
However, the prospects for online commerce are becoming clearer and clearer every day. In the near future, marketplaces are planned to be allowed to sell OTC drugs, and the online sale of dietary supplements is becoming a reality. As soon as the online sale of Rx drugs is allowed, e-commerce will be able to return the credit of trust with very good interest rates.
Tab. Top pharmacy chains in the Russian pharmaceutical retail market (2020)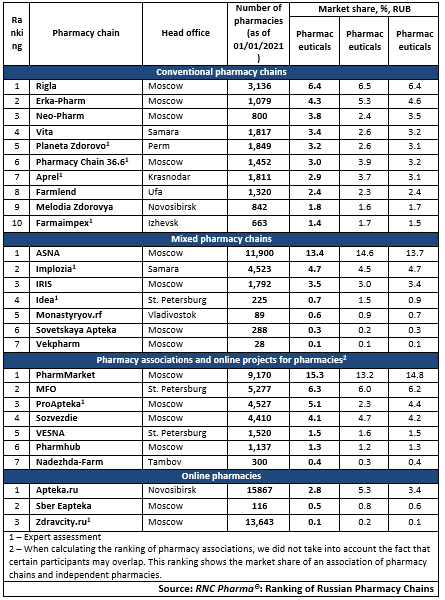 Share: