Ranking of Russian Pharmaceutical Distributors (Q1 2021)
Thursday, May 20, 2021
A reduction in market volumes was the highlight of early 2021 for the pharmaceutical industry. However, only retail has been on the decline so far. All the segments in the public sector has been showing double-digit growth rates, which helped the growth rates of the market on the whole, but the positive growth rates are only nominal, due to the inflation rate in the first quarter of 2021 being thrice as high as the growth rate.
Of course, the market participants prepared as best they could, using proven methods, inventory reduction strategy in particular. In recent years, retail has been using the just-in-time system, but here the industry went even further, and many were even ready to put up with a shortage, but not increase the inventory. This approach might be okay as an anti-crisis measure, but it will be very difficult to last a whole year in such a regime and it is unlikely that it can ultimately help the future development of the industry.
Anti-crisis measures, however, can be different, including investment strategies. Moreover, the story of the possible sale of one of the largest Russian pharmacy chains, Erkapharm, was continued in May. As expected, a large pharmaceutical distributor showed interest in the asset; Katren was reported to have filed a request with the FAS to acquire a controlling stake in Erkapharm's management company. If the deal goes through, it will be a truly landmark event for the industry. This means not only that Katren's own retail business will significantly expand, but also that its positions in the Moscow and St. Petersburg markets will strengthen and become more strategically important, which means certain difficulties for other wholesalers.
Despite the positive growth rates, the state segment did not have it easy either. First, it was bolt out the blue when Boris Spiegel, one of the key figures in the era of the formation of the Russian pharmaceutical market, was reported to have been detained and then arrested. While Biotech is not a one person company, these events are sure to have consequences for the business. Second, the Federal Antimonopoly Service sent memos to large manufacturers, demanding they clarify on the reasons for working with distributors previously convicted of violating antimonopoly legislation. Although the memos included many inactive distributors and general inaccuracies, the very fact that the FAS tried to influence the supplier-distributor relationship is a very unambiguous sign for the future development of the industry.
Tab. Top 15 pharmaceutical distributors with the largest market shares of direct pharmaceutical drug shipments (including preferential and regional shipments), in monetary terms (Q1 2021)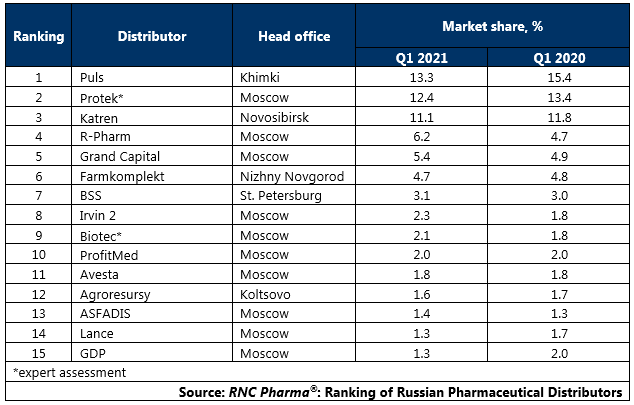 Share: