2019 Ranking of Russian Pharmacy Chains
Thursday, February 20, 2020
The coronavirus epidemic in China has definitely become one of the central issues of the early 2020. It is difficult to predict how the situation will evolve, and what consequences the healthcare system and the economy will have to face. However, the aspect of a certain cultural phenomenon in our country, formed by COVID-2019, is hard to ignore.
This is not about a surge in sales of masks, sanitizers and antiviral drugs, which were swept from the shelves of pharmacies and other trade organizations due to the hype. While all this may have temporarily improved the financial position of the Russian pharmaceutical retail, it is much more important that the hype acted as an instrument of public approval of a number of regulatory measures for the pharmaceutical retail, including very unpopular and often quite dubious ones, in terms of health system implications.
Meanwhile, there are plenty of more pressing problems in the industry. Household incomes are not growing, demand for OTC drugs is declining, consumers of certain OTC drugs are switching to dietary supplements. The sale of dietary supplements is actively moving to the online retail, including non-pharmaceutical one. While for the time being it is mainly a matter of front-margin losses, a couple of years later a massive outflow of marketing budgets will be prominent. The retail sector is rapidly transforming, which is a global trend that pharmaceutical market regulators are trying to ignore. By the way, if the online drug trade is legalized, which will have been decided upon by the summer of 2020, the problems are unlikely to be solved, especially since the transformation does not include only the online sector.
Several experiments are being conducted in the industry simultaneously, both with the participation of online and offline players. Offline pharmacies of the Internet companies Online Trade and Beru, or the long-discussed pharmacies by Russian Post can serve as examples. So far, these are mostly "laboratory" projects developing administrative processes and assessing business performance. These experiments do not always end successfully, like the Mega-Farm project, which had been closed by the end of 2019 without any noise.
Tab 1. Top pharmacy chains in the Russian pharmaceutical retail market (2019)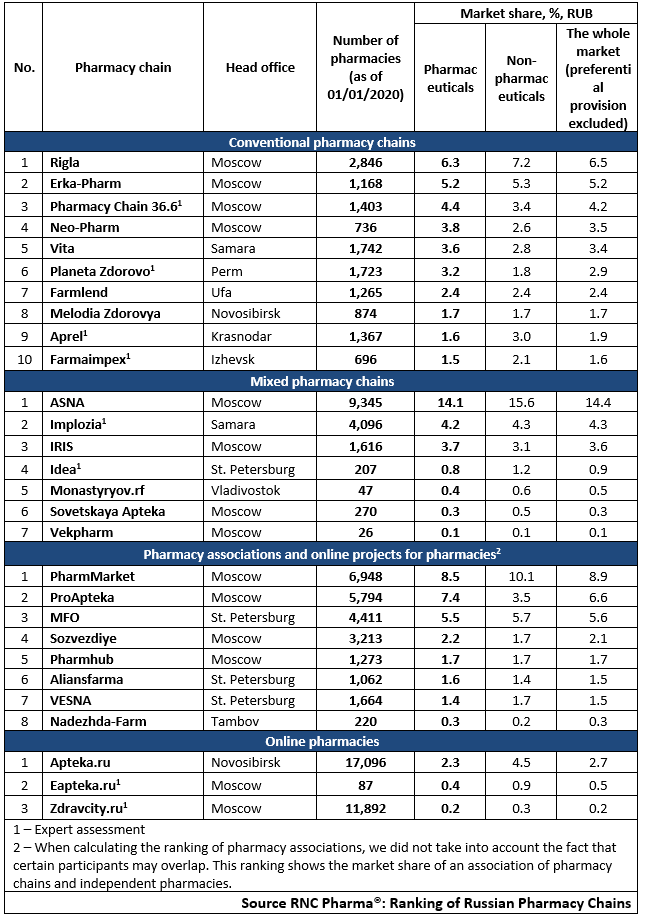 Share: