API Import to Russia (August 2020)
Thursday, October 15, 2020
Between January and August 2020, Russia imported RUB 110.1 bln worth of APIs (customs clearance and VAT included), which is in monetary terms (rubles) 29% higher than in 2019. The dynamics in physical terms (tons) are +18%, with the import volume of 9.8 thousand tons.
The API import dynamics also depend on the current market processes due to the launch of the labeling system. The manufacturers had stocked up their warehouses, which led to imports peaking in June 2020 (+69% in monetary terms). A natural decline followed in July and August, with the negative dynamics of -8% and -27%, respectively. However, the coronavirus epidemic turned out to be a much more significant factor affecting the API import, leading to another two peaks in January (+91%) and March (+159%).
The import structure has undergone some serious changes; commercial APIs now account for 4.7% of the API import in monetary terms (against 4.3% back in 2019). In physical terms, commercial APIs account for 4.4% of the imports against 3.1% in 2019.
That was also directly related to the coronavirus epidemic. The import of Favipiravirum, registered in Russia for COVID-19-specific treatment, contributed to the dynamics of the import of commercial APIs the most. Pharmasyntez was the first to import a small batch of Favipiravirum in April 2020, followed by Drugs Formulation (R-Pharm) in May 2020, which then turned out to be the main importer of Favipiravirum, with China accounting for most of the imports. Oseltamivirum, another antiviral API, comes second, imported by Pharmasyntez and their filial company Bratskhimsyntez from India and China.
As for pharmacopoeial APIs, the import of Enoxaparin sodium has the highest dynamics among the top 20 INNs with the largest import volume in monetary terms (import have grown by 5.9 times). Sotex, Solopharm, and Sanofi imported the biggest volumes; the first two worked with Chinese manufacturers, and Sanofi with Singaporean ones.
Dynamics of pharmacopoeial and commercial API import to Russia (EEU countries excluded), free circulation prices including customs clearance and VAT (2016 – 2019, January – August 2020)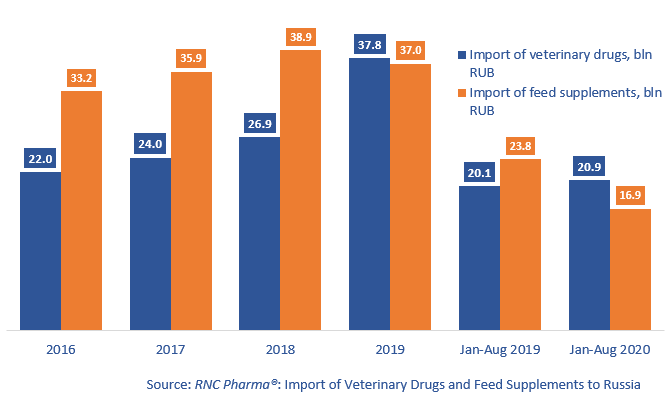 Share: