Import of Veterinary Drugs and Feed Supplements to Russia (May 2022)
Friday, July 15, 2022
In January–May 2022, Russia imported 15.6 billion rubles' worth of veterinary drugs (customs clearance and VAT included), 2.6% down from January–May 2021, and 19.3 billion rubles' worth of feed supplements, up 11.8% from the same period in 2021. Notably, feed supplements for pets helped the growth rates, having increased 2.2 times against January–May 2021. As for veterinary drugs, imports of products for both livestock animals and pets went down.
The growth rates in physical terms were negative for both veterinary drugs and feed supplements: –4.3% for veterinary drugs (12.9 million packages) and –13.5% for feed supplements (58,400 tons). In May 2022, the import volume of veterinary drugs grew 1.5% from May 2021 in rubles and 0.2% in packages, while the import of feed supplements dropped by as much as 36% in rubles and by 47% in tons.
The countries importing veterinary drugs to Russia in January–May 2022 remained practically the same—37 regions, including transit countries, against 39 a year earlier. The import structure did not change that much either, with China having the best growth rates (its imports grew 3.7 times in rubles against January–May 2021). China mostly imported its own products, including Enduro and NKP, manufactured and imported for Russian Vetpharmstandart. Imports from Poland increased 2.1 times against January–May 2021, but Poland, serving mainly as a transit country, imported products from seven other countries, helping, in particular, Elanco import Milbemax from its enterprise in France.
As for feed supplements, the number of importing countries decreased by 5—from 40 to 35. The import structure also suffered a more noticeable change, in particular, imports from Turkey grew 4.4 times in rubles against January–May 2021. Turkey was mainly a transit country; its transit imports included lysine hydrochloride and lysine sulfate from Indonesian Pt. Cheil Jedang. Turkey is followed by Great Britain (imports grew 2.9 times), which imported its own products, in particular, Alltech products, such as Mycosorb, Actigen, etc.
Growth rates of the import of veterinary drugs and feed supplements to Russia (EEU countries excluded), free circulation prices including customs clearance and VAT (January 2021–May 2022)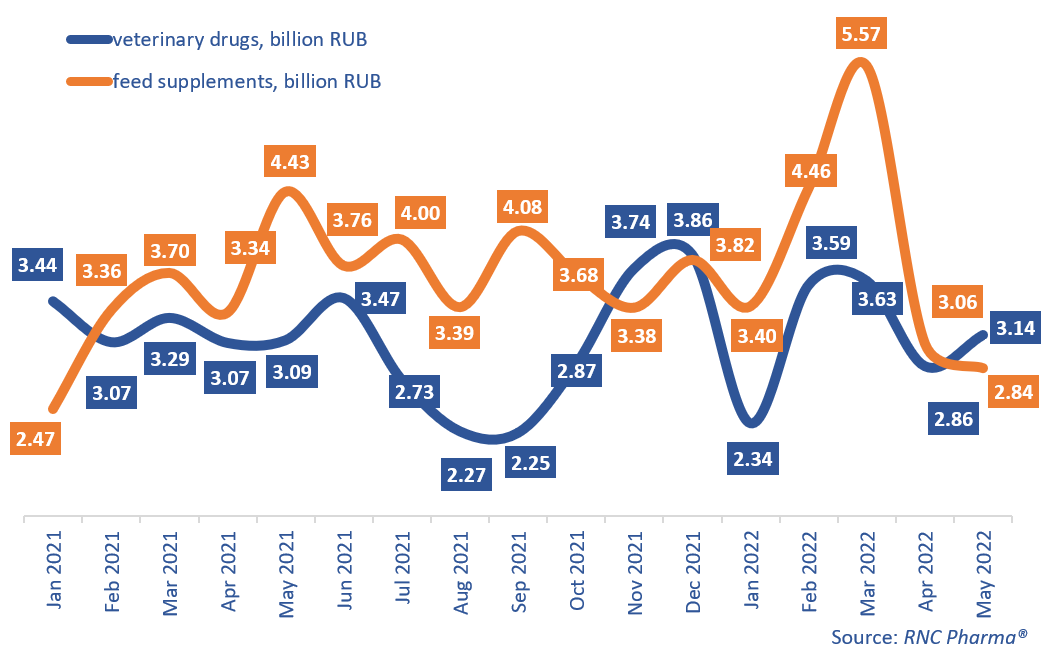 Share: