Survey by RNC Pharma and Doktor Na Rabote (Doctor at Work): Only 17% of Doctors in Russia Undergo Regular Testing for COVID-19
Friday, May 15, 2020
36% of doctors say that no COVID-19 testing is conducted in the hospitals where they work, according to an online survey by the RNC Pharma analyst company and the Doktor Na Rabote (Doctor at Work) social media service for doctors. It is noteworthy that doctors of various specialties – from therapists, pediatricians and gynecologists to cardiologists and surgeons – chose this answer. Obviously, not all hospitals provide assistance to patients with COVID-19, and far from all specialties may encounter potential carriers of infection, but even infectious disease doctors and pulmonologists said that they did not get tested in their hospitals. The problem is typical for all regions, including Moscow, St. Petersburg and other large regional centers.
About 24% of the respondents say that only those who had direct contact with patients get tested. 17% of the respondents from Moscow and St. Petersburg chose this answer, and 27% from the remaining regions.
Only 17% of the respondents said that they got regular COVID-19 testing, usually once a week, in some cases with a lesser frequency (every 10 days).
In the "other" section, the doctors also spoke about purely administrative problems. In one of the hospitals doctors were asked to undergo testing at their own expense, and sometimes diagnostic material is taken, but the results are not disclosed.
How often do you get tested for COVID-19 in the healthcare facility you work? (single-answer question)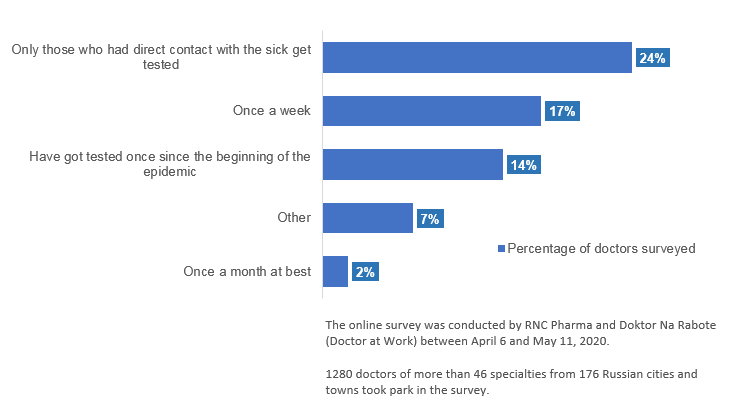 Share: