Survey by RNC Pharma and Doktor Na Rabote (Doctor at Work): 53% of Russian Pharmacists Consider General Distrust of Government Campaigns the Reason for Vaccine Hesitancy
Tuesday, September 14, 2021
More than half of the pharmacists (53%) who took part in the survey conducted by the RNC Pharma analyst firm and the Doktor Na Rabote (Doctor at Work) social media service for doctors believe that "general distrust of government campaigns" is the reason for the development of the anti-vaccination movement. Although the anti-vaccine sentiment does have a long history, the coronavirus pandemic, a set of measures to counter the spread of the virus and rather clumsy activities that were meant to get people to vaccinate were a huge push.
About 13% of the respondents say that there is a "deliberate strategy to discredit preventive healthcare." Apparently, this was supposed to mean that discrediting preventive healthcare is beneficial to certain players in the pharmaceutical industry, so the problem is more global. Another 13% believe that the spread of anti-vaccine sentiments in society is a result of public trust in doctors declining.
9% of the pharmacists spoke about more and more charlatans, who promote various pseudoscientific ideas regarding the healthcare system, appearing in the media. That would be impossible without the quality of education declining, said 6% of the respondents. Another 6% said that worse access to healthcare due to the reforms in the system might be the case.
What could be the reasons for the growing anti-vaccine sentiment? (single-answer question)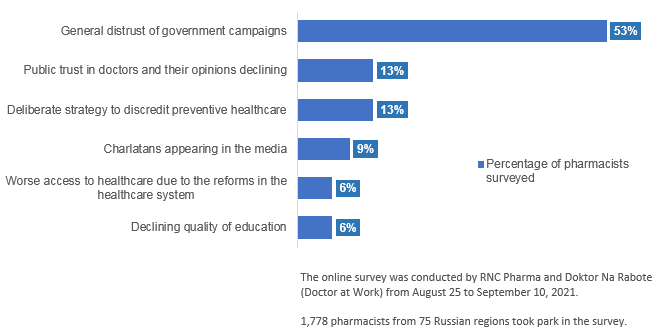 Share: