Import of Veterinary Vaccines and Serums from EEU Countries to Russia in 2020
Friday, May 14, 2021
Russia imported 0.09 billion rubles worth of veterinary vaccines and serums from the EEU countries in 2020 (wholesale prices, VAT excluded). However, most of the products were not manufactured by the EEU member states. Manufacturers from Belarus and Kazakhstan together accounted for only 0.8% of the total import volume, and Armenia and Kyrgyzstan did not ship veterinary vaccines to Russia in 2020 at all.
MSD (USA) accounted for nearly 73% of the products imported to Russia from the EEU countries in 2020. It imported 7 vaccines through the EEU member states. MSD is followed by Elanco (USA), which imported only one vaccine, but accounted for 12% of the total import volume. Boehringer Ingelheim (Germany) rounds up the top 3; importing 7 vaccine brands, it accounted for 10.2% of the import.
Two Belarusian companies are in the top 10 as well: Belvitunifarm, which imported 5 vaccine brands and accounted for 0.5% of the import, and Konsul, which imported only two vaccines and accounted for 0.3% of the volume. NPP Antigen, the only importer from Kazakhstan, did not make the top 10, accounting for only 0.04% of the import volume.
0.02% of the products were actually Russian-made vaccines and serums, which had been exported to the EEU countries before, in particular production by Armavir Bio Plant and Vetbiochem.
Nobilis, a vaccine by MSD, tops the brand ranking (Tab 2). The vaccine accounted for 58.7% of the total veterinary vaccine import from the EEU countries to Russia in 2020. It is followed by AviPro (Elanco) with 12% and Innovax (MSD) with 9.9%. A total of 4 brand names by MSD are included in the top 15; the other two are Nobivac and Bovilis.
Belarus manufactured only three vaccines in the top 15, with Streptovak-S by Konsul accounting for the largest import volume, or 0.2% of the total import. The other two were Dry live vaccine against trichophytosis of cattle (0.2%) and Polyvalent serum against pasteurellosis, salmonellosis, escherichiosis, parainfluenza-3 and infectious rhinotracheitis of cattle (0.2%) by Belvitunifarm.
Tab 1. Top 10 manufacturing companies of veterinary vaccines and serums with the largest import volumes from EEU to Russia in 2020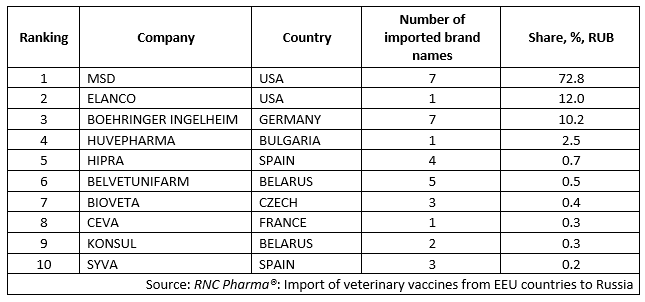 Tab 2. Top 15 brand names of veterinary vaccines and serums with the largest import volumes from EEU to Russia in 2020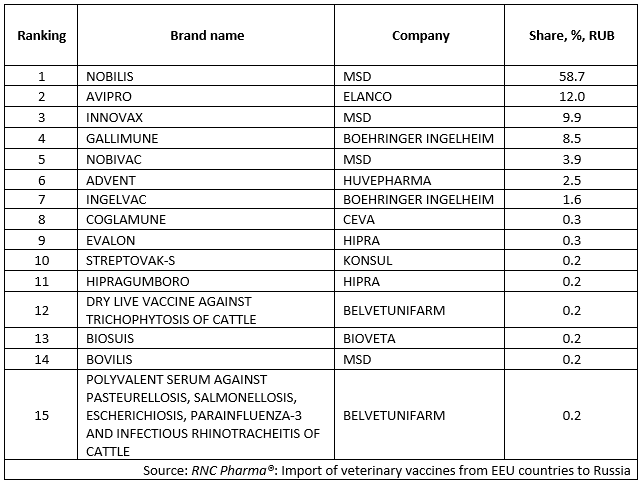 Share: