Audit of Veterinary Drug Retail Sales on Russian Online Marketplaces in Q1 2022
Thursday, April 14, 2022
From January to March 2022, the top Russian marketplaces sold RUB 338.7 million worth of veterinary drugs (retail prices, VAT included). Compared to Q1 2021, the sales increased by a factor of 2.6, with the revenue of the first three quarters exceeding that of 2020 and amounting to half of that in 2021. In physical terms, the growth rate was 72%, while the sales volume was 1.8 million minimum dosage units (MDU).
In fact, this rapid growth can hardly be considered odd, because 2021, for example, saw a threefold growth rate in rubles. However, the reasons were still fundamentally different, with consumers finally realizing back then how convenient shopping online could be, in part thanks to the marketing activity of pharmaceutical companies. The online development continued at a very high level during the first months of this year as well, and then March brought panic moods—out of fear that foreign drugs would suddenly disappear, consumers began to stock up on their usual products. As a result, the sales volume grew 3.4 times in monetary and 2.1 times in physical terms against March 2021.
The number of brand names sold online dropped by 3 (359 in Q1 2022 against 362 in Q1 2021. However, the top 10 was rearranged, in particular the following brands entered the top: Foresto by Elanco, PimoPet by GiGi, and Frontline by Boehringer Ingelheim.
Only four corporation had negative growth rates among the 20 largest foreign manufacturing companies by sales volume in Q1 2022. The others' sales increased, with nine companies having manyfold growth rates. ContiPro had the highest growth rates (online sales increased 5.3 times), despite having sold a relatively small volume of only one product online—Bonharen, hyaluronic acid for the treatment of arthrosis, arthritis and other diseases of the musculoskeletal system. ContiPro is followed by the industry leader MSD; the company increased its sales 4.1 times. Although the company sold 11 different brands on the marketplaces, only one drug, Bravecto, actually contributed to the growth rates. Finally, the top three was Latvian GiGi (sales grew 3.9 times), with its cardiotonic PimoPet contributing to the growth rates.
As for the top 20 Russian companies, the growth rates were more modest; against this background, the results of Astrapharm (sales increased 2.2 times) and Favorit (saled doubled) might look impressive. The online sales of Astrapharm's antidepressant Express Uspokin grew 3.9 times over the past year, and its anthelmintic Prazitel made a significant contribution to the growth rates as well. Favorit, in its turn, increased the sales of its repellent products for cats and dogs, Good Cat and Good Dog.
Volume of veterinary drug retail sales on Russian online marketplaces* in 2019–2021, Q1 2022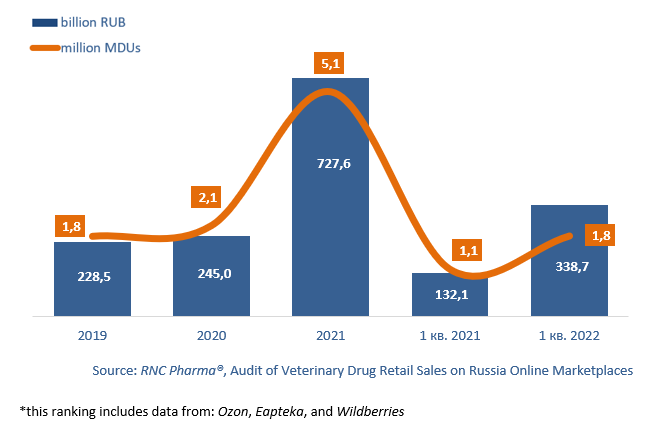 Share: