Top 15 Online Pharmaceutical Retailers in Russia (Q1 – Q2 2020)
Tuesday, October 13, 2020
The online segment includes a wide variety of platforms, many of which sell beauty and health products. These are marketplaces such as www.iHerb.com and others, electronics and household appliances stores, as well as official online stores of companies, for example www.shop.philips.ru. Despite the product range overlapping with that of pharmacies, many of the online retailers still operate outside the pharmaceutical market as such and do not enter into direct competition with the pharmaceutical retail, while often influencing consumption trends, given the scale of certain players.
Our ranking includes only those companies that specialize in medicinal products and can be considered as representatives of the pharmaceutical retail. The ranking excludes the companies OZON (www.ozon.ru) and Zdravcity (www.zdravcity.ru); even though they could objectively claim positions in the top 15, their representatives refused to provide the data required to participate in the ranking.
The total volume of on-line sales or booking of pharmaceutical products in Russia between January and June 2020 is estimated at RUB 63.8 bln. This amount does not include the gray online businesses that import original foreign drugs to Russia, as well as services that sell generics that are currently unregistered in Russia. These companies operate outside the legal framework and work with various consumers, despite directly competing with representatives of the legal Russian pharmaceutical business.
The total volume of sales of the top 15 online companies in the retail pharmaceutical market between January and June 2020 amounts to RUB 46.75 bln, which accounts for more than 73% of the total turnover of the online segment. Outside the top 15, there are still around 150 companies of various sizes, which are represented by websites of relatively small pharmacy chains and even single pharmacies, and their on-line turnover is comparable to their offline one.
Apteka.ru outperforms the other 14 companies with a noticeable margin, having the turnover for the period of nearly RUB 25 bln. Eapteka comes second, with RUB 3.37 bln. The federal company Apteka-Timer rounds out the top three; it is one of the largest Russian offline pharmacy chains, and its online segment is also head and shoulders above those of the others, with a significantly higher turnover and a bigger number of pharmacies.
It is also important to note that certain companies own several Internet website at once, and all of them were taken into account. For example, the total turnover of Erkapharm Group (top 4) includes that of all three websites of the company: www.stoletov.ru, www.samson-pharma.ru and www.6030000.ru, which is also the case with NeoPharm, Rigla, and Pharmacy Chain 36.6. Despite owning more than 50 websites, Implozia is yet unable to claim positions in the top ten.
Тop 15 Russian online pharmaceutical retailers (Q1 – Q2)1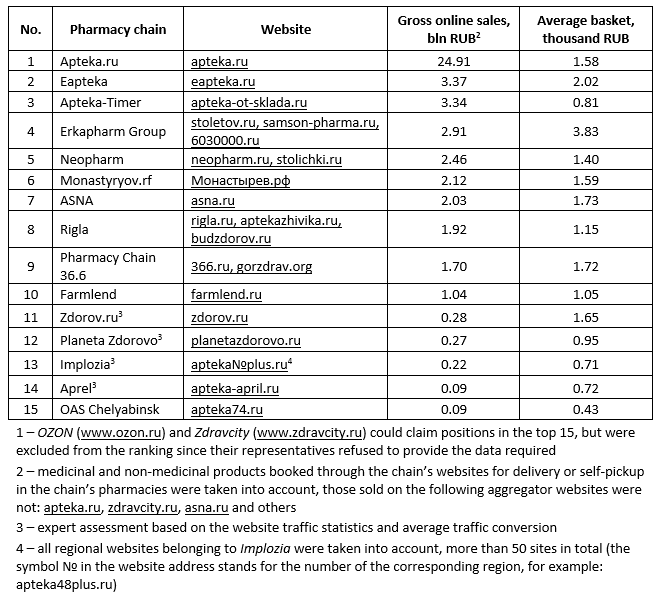 Share: