Survey by RNC Pharma and Doktor Na Rabote (Doctor at Work): Questions that Doctors Would Like to Ask Minister of Health
Friday, September 13, 2019
In anticipation of the direct line with the Minister of Health of Russia Veronika Skvortsova, scheduled for September 13, 2019, the RNC Pharma analyst company and the Doktor Na Rabote (Doctor at Work) social network for doctors conducted an online survey to find out which problems the professional community finds most concerning and which should be addressed to the Minister.
The respondents were asked to choose one answer out of the 10 proposed or suggest their own answer. 31% of the doctors are concerned about the level of salaries. Overworking and irregular working hours are the second most pressing problem.
A significant number of the respondents (18%) opted for their own answer. In addition to "emotional assessments" of the activities of the current Ministry of Health, the doctors stressed the significance of every listed problem and asked if an early resignation of the Minister of Health was possible.
What question would you address to the Minister during the direct line on September 13, 2019? (single answer question)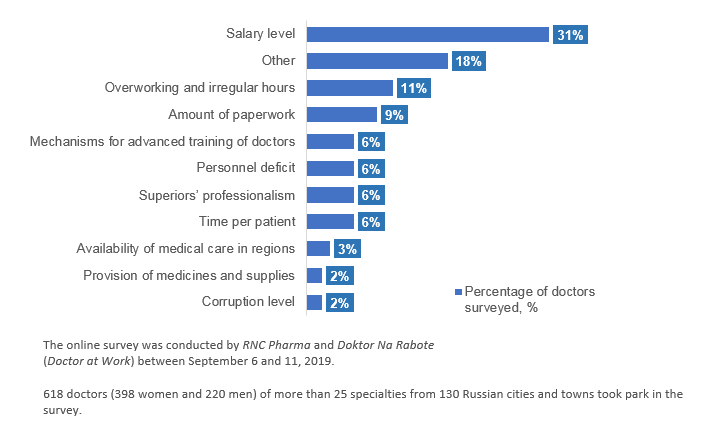 Share: