Import of Veterinary Drug and Feed Supplements to Russia (November 2022)
Friday, January 13, 2023
From January to November 2022, Russia imported 34 billion rubles' worth of veterinary drugs (customs clearance and VAT included; import from EEU countries excluded), up 2% from the same period in 2021. In physical terms, the import grew 5.1%, with 30.6 million packages. As for feed supplements, the import fell 6.5%, with 37 billion rubles. In physical terms, the import, 133,900 tons, went down 11.3% from January–November 2021.
November was the second worst month of 2022 (after January) for the import of veterinary drugs in terms of growth rates—imports dropped 28% (2.68 billion rubles), or 16% in physical terms (3.05 million packages). Imports of feed supplements fell 11% (3.0 billion rubles). In physical terms, imports hit an 11-month high, going up 23%, with 13,700 tons imported.
The number of manufacturers importing veterinary drugs to Russia in January–November 2022 dropped from 104 a year earlier to 92. The companies that suspended their imports accounted for only 1.3% of the total import in monetary terms in 2021. PH-Albio (Spain) is one of those companies—in January–November 2021, it was importing only Phenoxypеn, an antibacterial drug for livestock. As for the new manufacturers that did not import to Russia in 2021, Pharmagal-Bio (Slovenia) imported Rotagal, a combined vaccine for farm animals. Chemical Iberica had one of the best growth rates—its imports grew 10 times against January–November 2021. The only product the company imported was the inhalational anesthetic Isonic.
As for manufacturers of feed supplements, they, too, dropped in number: from 252 in January–November 2021 to 207 in January–November 2022. The companies that had to suspend their imports to Russia accounted for around 3.8% of the import in 2021, with Be-Long Corporation (China), a manufacturer of Choline Chloride, importing the largest amounts. Indonesian Pt. Cheil Jedang was the biggest newcomer—it imported L-Lysine Monohydrochloride and Lysine Sulfate. Hylen (China) was among the companies with the best growth rates—its imports of Betaine Hydrochloride and Choline Chloride grew 12.4 times against January–November 2021.
Growth rates of the import of veterinary drugs and feed supplements to Russia (EEU countries excluded), free circulation prices including customs clearance and VAT (January 2021–November 2022)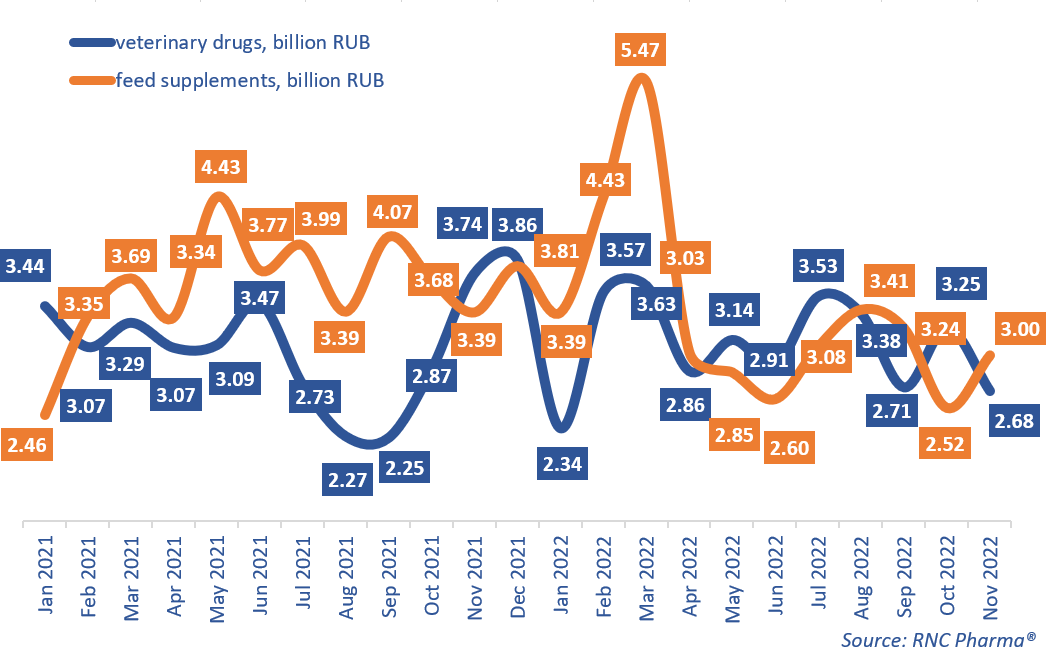 Share: