Survey by RNC Pharma and Doktor Na Rabote (Doctor at Work): 54% of Doctors Witnessed Statistical Distortion
Monday, November 11, 2019
The problem of statistical distortion on morbidity and mortality has more than once become the subject of discussion at the highest level. In particular, in mid-October 2019, at a meeting of the presidium of the Presidential Council on Strategic Development and National Projects, Prime Minister Dmitry Medvedev promised to take harsh measures against the leaders of the regions in which statistics are distorted.
The magnitude of the problem is impressive. At least 35% of doctors have witnessed statistics distortions in their work, and another 19% themselves distorted the statistics as directed by the management, according to an online survey by the RNC Pharma analyst company and the Doktor Na Rabote (Doctor at Work) social network for doctors. However, only 0.4% of the respondents admitted that they have done it by choice, without any instructions.
It is noteworthy that male doctors are more inclined to distort statistics as directed by management than women (21% against 18%).
Another 18% of the respondents have heard of statistical distortions from their colleagues. At the same time, less than a third of the respondents (around 28%) have never encountered statistics distortions.
Have you witnessed intentional statistical distortion on morbidity and mortality in your health care facility? (single answer question)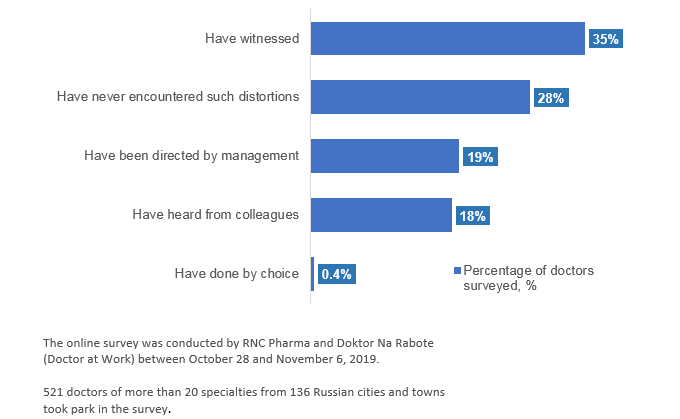 Share: