Survey by RNC Pharma and Doktor Na Rabote (Doctor at Work): Only 2% of Doctors Believe that Coronavirus Outbreak Will not Reach Russia
Wednesday, March 11, 2020
35% of doctors are more afraid of the hype around coronavirus than of the epidemic itself, according to an online survey by the RNC Pharma analyst company and the Doktor Na Rabote (Doctor at Work) social media service for doctors. 27% of the respondents also believe that the situation is unreasonably exaggerated on a global scale, in other words, the hype is artificial. It is interesting that these answers had pronounced gender differences. 36% of the women and 30% of the men spoke about the danger of hype, while 34% of the men and 25% of the women spoke about artificial hype.
At the same time, only 2% of the doctors are ready to recognize the preventive measures taken by the Russian Government as effective and believe that there is currently no problem with the spread of coronavirus infection in Russia.
Another 29% say that there is virtually no effective diagnostic system in Russia, and therefore we cannot see the real extent of the problem. Average citizens seeking help at public and private hospitals have often said that a quick and reliable examination is impossible.
How do you feel about the problem of coronavirus infection? (single answer question)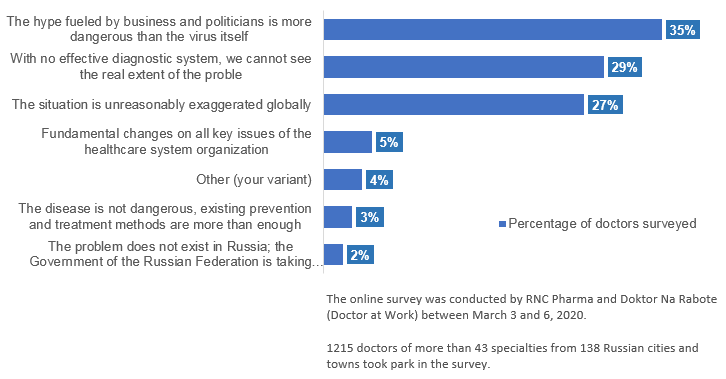 Share: