Database Update: Pharmaceutical Drug Import for Clinical Trials to Russia (September 2019)
Tuesday, December 10, 2019
Between January and September 2019, Russia imported 532.3 thousand units, 13.1 bln RUB worth of pharmaceutical drugs for clinical trials (CT) (customs clearance prices, VAT included). The dynamics in physical terms (units) are only +0.4%. The dynamics in monetary terms (rubles) are much higher, +9.8%. The importers were most active in Q3 2019.
The import line has grown considerably, from 497 to 553 trademarks. There are 192 placebos against 448 reference preparations. Placebos account for 15.2% of the total import in monetary terms against 17% in 2018, and for 38.9% against 39.8% in physical terms.
Entresto (LCZ696, Valsartan + Sacubitril) by Novartis is the leader in physical terms, with 26.8 thousand units. The efficacy and safety of the drug is studied in comparison with Ramipril on the effect on morbidity and mortality in patients with a high risk of recurrent acute myocardial infarction. It is a multicenter randomized double-blind study, conducted in 37 hospitals in Russia. As for reference preparations, Paclitaxel remains the leader, with 14.6 thousand units. It is imported in 4 different forms for 11 importers.
In Q3 2019, Russia started importing 58 new pharmaceuticals for CT, which had not been imported since 2013. Among the new ones, the drug under code name LY3298176 by Eli Lilly has the highest import volume in physical terms (4,646). The molecule is an agonist of the GIP and GLP-1 receptors and in is currently undergoing a study of the efficacy and safety of use in comparison with Insulin Glargine in patients with type 2 diabetes mellitus and an increased cardiovascular risk. The study covers 170 patients in 12 hospitals.
LY3298176 is followed by Aprocitentan (ACT-132577), with 962 units. In Russia, on the basis of 10 clinical bases with the participation of 225 patients, a multicenter randomized blind study is conducted in order to test effect of Aprocitentan on lowering blood pressure if it is included in the standard treatment of patients with true resistant hypertension. The drug is being developed by Idorsia Pharmaceuticals (formerly Actelion Pharmaceuticals).
Dynamics of pharmaceutical drug import volumes for clinical trials (CT) to Russia (2016 – 2018, Q1 – Q3 2019), free circulation prices (customs clearance and VAT included)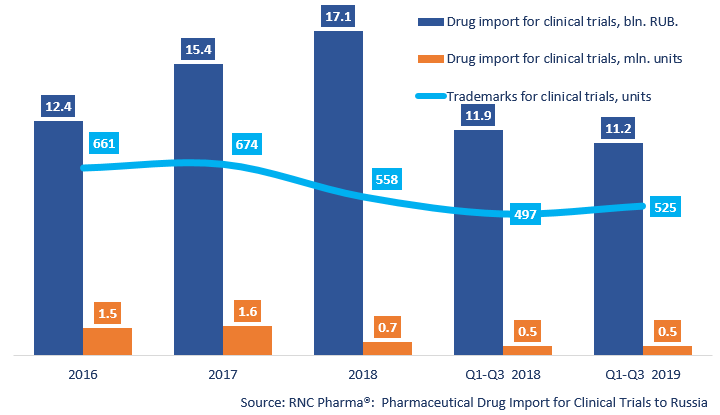 Share: