Top 20 Online Pharmaceutical Retailers in Russia (Q1–Q2 2022)
Friday, September 9, 2022
In Q1–Q2 2022, the online sales or reservations of pharmacy products (pharmaceutical drugs and parapharmaceuticals) in Russia were 142.5 billion rubles (end-user prices, VAT included), comparable to the total in 2020. The growth rate was 51.3% against 69.6% in Q1 2022. The online segment seems to have returned to a more or less standard consumption model in Q1–Q2 2022, but the segment was still far ahead of the offline channel in terms of growth rates.
The share of the e-com segment in the Russian pharmaceutical retail, including parapharmaceuticals, was 16.4% in Q1–Q2 2022. The growth continues despite the fact that the launch of prescription drug sale and delivery is being artificially slowed down; this category is growing thanks to reservations. The total revenue of the top 20 companies for the period was 123.2 billion rubles (end-user prices, VAT included), with the top companies accounting for 86.4% of the segment. While the results in early 2022 were rather an outlier because of the rush demand, now the concentration level obviously increased against Q1–Q2 2021, when the top 20 companies accounted for 83.7% of the segment.
The growth is sure to continue, since the top 20 companies are consistently investing more in the segment. In addition, the number of large companies in the channel is growing; for example, the pharmaceutical distributor Puls launched its own online project, polza.ru, in late July 2022. Developing the service with the help of its partner pharmacies, Puls is now the largest Russian pharmaceutical distributor in terms of revenue. It supplies pharmaceuticals to at least 57,000 Russian pharmacies, and, while not all of them will become project partners, working even with 20% is enough to claim a top position.
These are prospects for the next year, though. As of July 1, 2022, the top three remains unchanged. Top 1, Apteka.ru, works with more than 26,500 pharmacies; the number of its partners went up by more than 2,400 in April–June 2022. A similar project, Zdravcity by Protek, lost 37 pharmacies, but is ahead of the segment leader in terms of growth rates (62%). Zdravcity also had high growth rates, 37%.
The turnover of four top 20 companies at once increased severalfold against Q1–Q2 2021, including Eapteka (turnover grew 2.2 times) and Erkapharm / Melodia Zdorovya (growth rates nearly the same as those of Eapteka). The turnover of the Aprel online projects grew 2.1 times against Q1–Q2 2021, and the turnover of Rigla doubled. Both companies are Russia's largest conventional pharmacy chains. Aprel shows an unprecedented growth in infrastructure (+621 pharmacies in three months), and Rigla kept developing its service component. Only three top 20 companies had negative growth rates.
Тop 20 Russian pharmacy chains and pharmaceutical associations with the largest online sales in Q1–Q2 2022**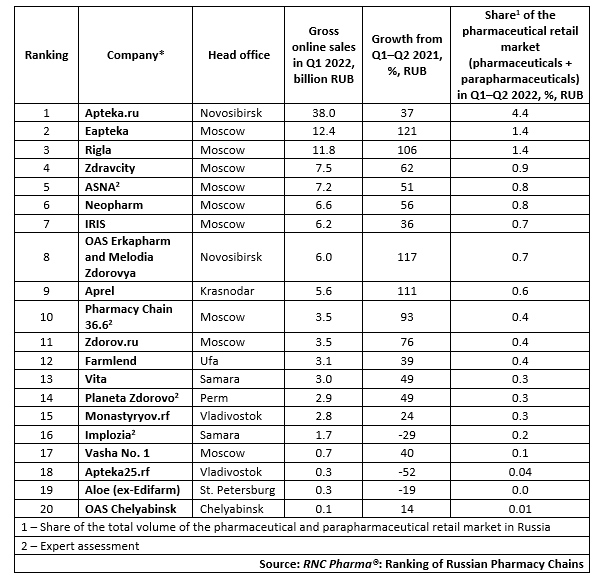 * Only organizations specializing in the sale of medicinal products were included in the ranking. The volumes mentioned do not include the revenue of representatives of the gray online business supplying original drugs to Russia from other countries and services selling generics non-registered in Russia
** OZON (www.ozon.ru) was excluded from the ranking due to its refusal to provide the data required
Share: