Pharmaceutical Drug Import to Russia in 2019
Friday, March 6, 2020
In 2019, Russia imported 759.2 bln RUB worth of pharmaceutical drugs (customs clearance prices, VAT included). The import volume together with the import dynamics in rubles (+42.8%) hit historic highs. The dynamics of the in-bulk import, while not record-worthy, were also rather high (+22.7%). However, the total in-bulk import volume did hit a historic high with 129.8 bln RUB.
The dynamics in physical terms have increased along the dynamics in monetary terms. For ready-made drugs, they were +20.1% in units and +20% in minimum dosage units (MDU), with 2.24 bln units or 41.3. bln MDUs.
The high dynamics are mainly due to high activity between September and November 2019. In preparation to the drug labeling system, pharmaceutical companies made sure to have full stocks in their warehouses to ensure smooth operation during the transition period. Some companies imported enough to last 4-6 months in regular mode. The in-bulk import volume amounted to 3.17 bln MDUs, with the dynamics of -21.7%.
The December results do not stand out too much against the record-worthy results of the previous three months. The dynamics of the import of ready-made drugs in December 2018 are +3.8% in physical terms (units) and -0.6% in monetary terms (rubles). By late November, pharmaceutical companies had become aware that the drug-labeling system was not likely to come into force on January 1, 2020, which was then confirmed in early December, and the companies cut down on the imports.
Among the top 20 importers of ready-made drugs, only three companies have negative dynamics: KRKA (-7%), Abbott (-6%), and Gedeon Richter (-3.5%). However, these companies seem to have adjusted their imports by localizing the manufacture of a number of their products at Russian plants. The other companies in the top 20 had high dynamics. BMS is the absolute leader, having increased their imports by 5.2 times, followed by Astellas and Roche (imports increased by 3 times).
As for in-bulk importers, 10 companies in the top 20 have negative dynamics. However, they have been clearly cutting down on imports, not adjusting them. In particular, Abbott has reduced their imports by 51% and Novo Nordisk by 49% in monetary terms. Eisai and Novartis have the highest dynamics (imports grown by nearly 2.7 times).
Dynamics of import of pharmaceuticals to Russia (except from the EEU countries), free circulation prices including customs clearance and VAT, RUB (January 2018 – June 2019)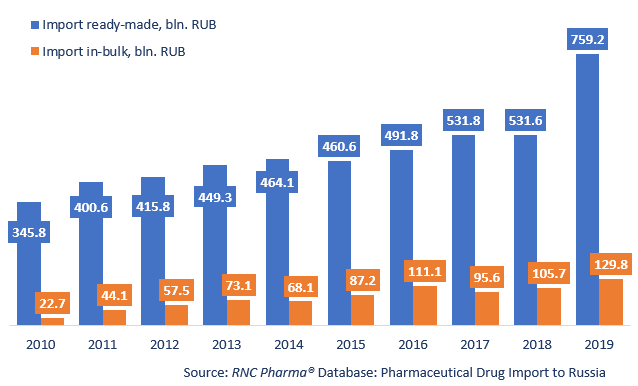 Share: