Survey by RNC Pharma and Doktor Na Rabote (Doctor at Work): 22% of Doctors Do Not Support Drug Labeling
Tuesday, December 3, 2019
40% of doctors consider it necessary to adjust the timing of the drug labeling system implementation in order to prevent interruptions in drug care, according to an online survey by the RNC Pharma analyst company and the Doktor Na Rabote (Doctor at Work) social network for doctors. Another 22% of the respondents believe that labeling is not required at all and that there are other effective methods to combat counterfeit and substandard pharmaceutical drugs (in particular, criminal law).
Around 19% of the respondents believe that the labeling system should be implemented as soon as possible, citing the necessity to protect consumers from fakes.
A significant number of specialists do not even think about the necessity of the system. There are also doctors who have never heard of the implementation of such program in Russia. This category is represented not only by people of pre-retirement age but also mostly by specialists aged 25 to 45 years.
How necessary is drug labeling? (single answer question)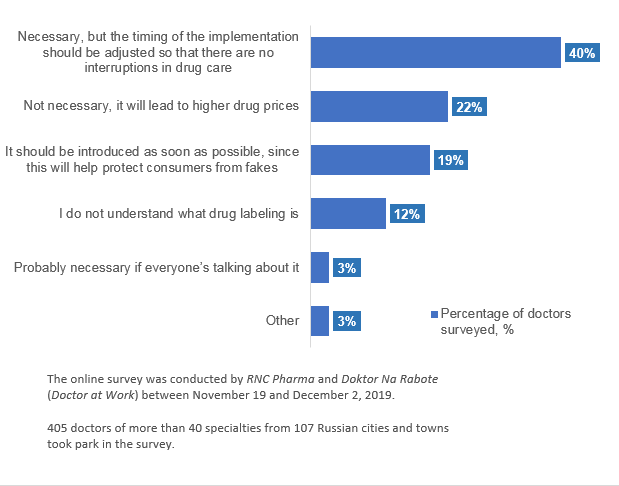 Share: