Audit of Veterinary Drug Retail Sales on Russian Online Marketplaces in Q1–Q2 2022
Wednesday, August 3, 2022
From January to June 2022, the top Russian marketplaces sold 711.5 million rubles' worth of veterinary drugs (retail prices, VAT included), comparable to the total sales last year (727.6 million rubles). However, the growth rates are slowing down, 84% in rubles, with Q1 contributing to the growth rates the most. In physical terms, the sales volume was 3.6 minimum dosage units (MDU), up 44% from Q1–Q2 2021.
While the work of online players in Q2 2022 could not be compared to that in January–March, especially since a calmer period, when consumers used up what they had stocked up on, hit the market after a rush demand, the growth rate was still positive, 46% in rubles and 23% in MDUs, despite a different consumption strategy and the onset of the so-called "low" season.
The number of brands sold online in Q1–Q2 2022 was 441 against 373 a year earlier. However, even with the product range expanding actively, this is much lower than the number of brands available offline—1195. The share of Russian-made products sold online is lower, and has decreased over the year—16.6% in monetary and 30.5% in physical terms, respectively.
The number of Russian manufacturers selling their products online was 60. Amma had the highest growth rates in Q1–Q2 2022 (its sales increased 5.4 times in rubles against Q1–Q2 2021), with insectoacaricide Gamma contributing to the growth rates the most. Amma is followed by Agrofarm—the company's sales grew 4.3 times against Q1–Q2 2021. Their product range is much more diverse, and antimicrobials Levomecol-Vet and Calcium Borogluconate helped the growth rates. Both companies are not top-selling companies; among the largest companies, Favorit continues to break records (sales grew 3.7 times), selling a number of pet repellants: Good Dog, Good Cat, etc.
Among the 37 foreign manufacturers selling their veterinary drugs online, mainly top players had the best growth rates. Gigi (Latvia) increased their sales 3.5 times against Q1–Q2 2021, thanks to cardiotonic Pimopet. KRKA (Slovenia) is also worth mentioning (sales grew 2.9 times); its anthelmintic Milprazon, antiparasitic Selafort and the Finprist insectoacaricides contributed to the company's growth rates the most.
Volume of veterinary drug retail sales on Russian online marketplaces* (2019–2021, Q1–Q2 2022)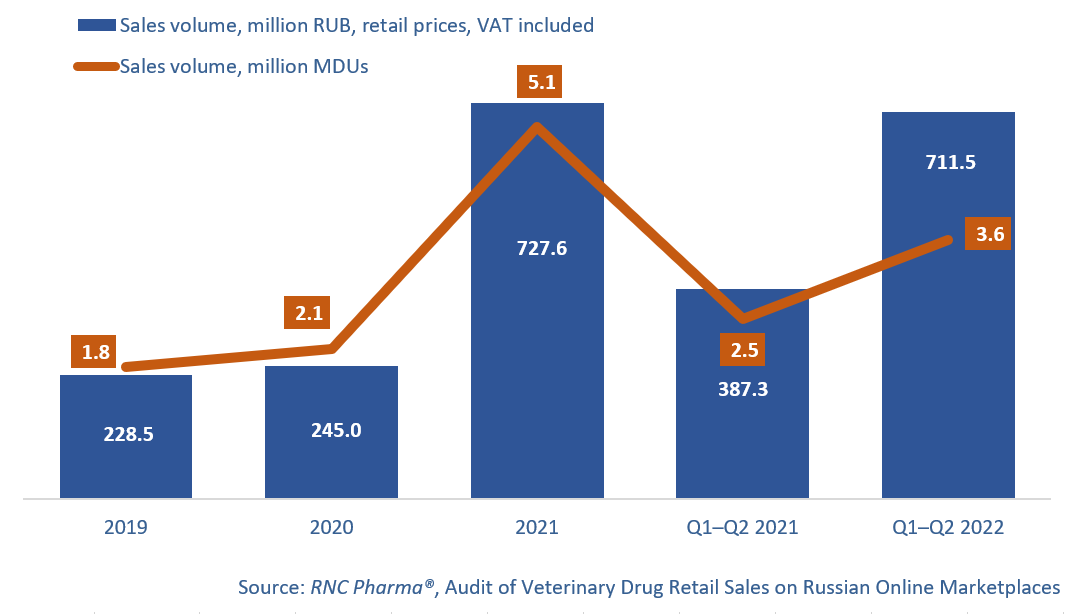 *this ranking includes data from: Ozon, Eapteka, and Wildberries
Share: