Survey by RNC Pharma and Doktor Na Rabote (Doctor at Work): 62% of Pharmacists Ready to Give Up Print Media in Favor of Digital Editions
Friday, October 2, 2020
Only 4% of pharmacists are "definitely" not ready to read digital editions and prefer print media, according to an online survey by the RNC Pharma analyst company and the Doktor Na Rabote (Doctor at Work) social media service for doctors. Another 23% of the respondents are more likely to pick the latter over the former, but are not dead set against electronic media. Speaking about the advantages of print media, the respondents most often noted the possibility to bookmark and make notes, as well as their independence from the Internet.
62% are ready to stop reading print media as soon as possible, with 25% of them ready to switch to electronic media and 37% are more likely than not. The advantages of digital editions the respondents named are quick delivery of up-to-date information and no need to carry extra weight, meaning no need for a place to store or carry it. Many people also note that digital editions are easy to print out if necessary.
It is important that the answers had statistically significant differences depending on the age of the respondents or their place of residence. For example, those aged between 56 and 65 years are most loyal to print media. The number of the respondents who are not ready to switch to the electronic format is also higher in the regions outside Moscow and St. Petersburg; apparently, affordable broadband Internet access is not available in all federal subjects, which objectively limits access to electronic media.
Are you ready to give up reading print media in favor of digital editions? (single-answer question)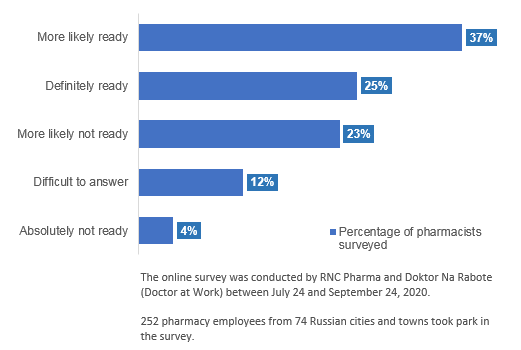 Share: