Database Update: Audit of Veterinary Drug Retail Sales in Russia (Q1–Q2 2022)
Tuesday, August 2, 2022
In Q1–Q2 2022, the offline sales of veterinary drugs in the Russian retail market were 10.8 billion rubles (retail prices, VAT included), down 2% from the same period in 2021. The spring rush demand was followed by a much calmer period, when consumers were using up what they had stocked up on. Besides, the online segment has been influencing the development of the market quite a lot, while continuing to grow and attracting consumers away from the offline segment. In physical terms, the growth rate was –19.2% in minimum dosage units (MDU), with 67.1 million MDUs sold.
After a surge in sales in March 2022, sales have been falling for the third month in a row, both in monetary and physical terms. June 2022 was pretty much the same as the previous months; the sales were 1.68 billion rubles, down 10.8% from June 2021. In physical terms, the growth rate was –23%, with 10.5 million MDUs in sales.
Russian-made products accounted for 31.8% of the offline sales in the veterinary retail market, down 0.1% from Q1–Q2 2021, and 61.1% in MDUs, down 0.6%. However, the main reason for that was the March rush demand, when consumers were stocking up on foreign drugs. The demand for Russian drugs began to rise again as early as April, though. June 2022 picked up the trend to increase the share of Russian products significantly—up 4.3% in rubles (to 37.5%) and up 0.9% in MDUs (to 61.7%).
S.P. Veterinaria (Spain) had the best growth rates among foreign manufacturers in January–June 2022; the company's sales increased 16.4 times against January–June 2021 thanks to their drugs for livestock, in particular antibacterials Enrocoli and Colmyc. However, the company can so far only enter the top 50. As for the top companies, KRKA had the best growth, up 38% from Q1–Q2 2021, with antiparasitic Selafort contributing to the company's growth rates the most.
Among Russian companies, Group New showed a record-worthy growth—the sales increased 8.5 times against January–June 2021, with Myoxyl, a sedative, analgesic and muscle relaxant, helping the company's growth rates. As for the top manufacturers, Vic's sales grew 14%; its Santomectin, an antiparasitic drug for livestock, and Quantum, anthelmintic for pets, contributed to the growth rates.
The volume of the Russian retail market of veterinary drugs (online sales excluded) in monetary (RUB, end user prices, VAT included) and physical (MDU) terms (2019–2021, Q1–Q2 2022)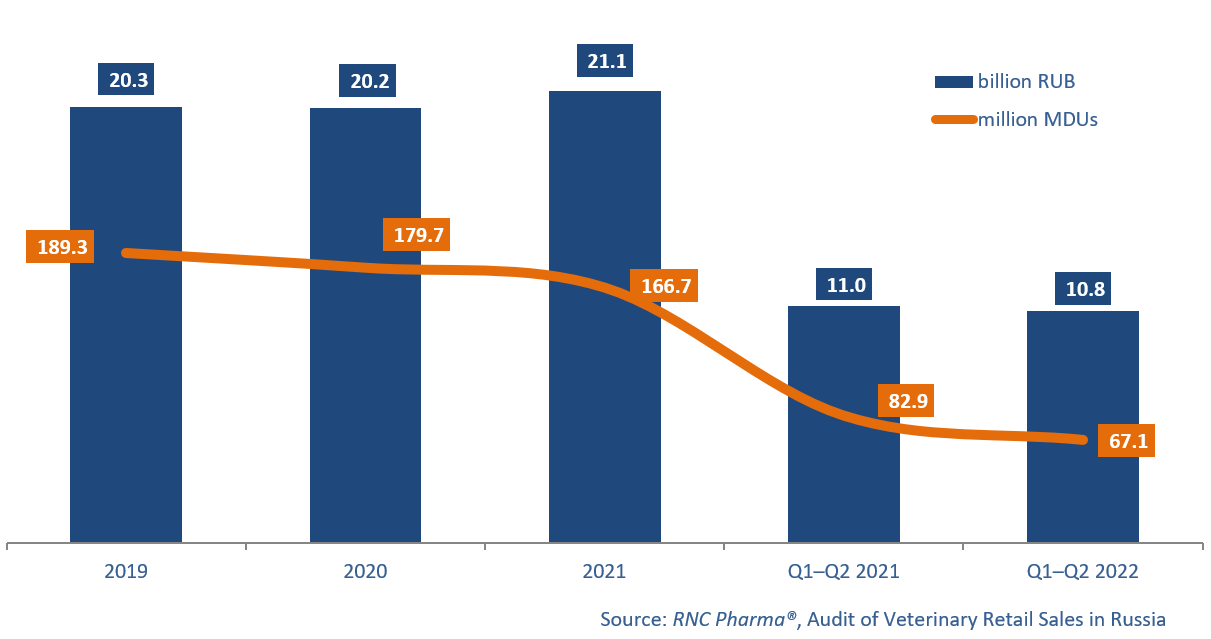 Share: