Pharmaceutical Drug Import to Russia in 2021
Wednesday, March 2, 2022
In 2021, Russia imported RUB 787.4 billion worth of ready-made pharmaceutical drugs (customs clearance and VAT included), up 41% from 2020 in monetary terms (rubles). A higher growth rate was recorded only in 2019 (43%). As for in-bulk imports, the growth rate was 17% in monetary terms, and the volume was RUB 166.4 billion.
The imports in physical terms, however, were far from record-worthy: 1.82 billion packages, or 35.8 billion minimum dosage units (MDU), pretty much the same as those in 2018. Nevertheless, the growth rates were a very impressive 31.4% in packages and around 33.4% in MDUs. As for in-bulk, the growth rate was –8.3% in MDUs, and the total import volume was 2.26 billion MDUs, an absolute minimum since 2013.
300 companies imported ready-made pharmaceuticals to Russia in 2021. Two Irish corporations, Vertex Pharmaceuticals (top 35) and PTC Therapeutics (top 50), set new records; the imports by the former increased 27.4 times and by latter—21.3 times. Vertex Pharmaceuticals imported six products, and the import of every drug increased compared to 2020. Its drug for the treatment of cystic fibrosis Orkambi contributed to the growth rates the most, with an import volume of more than RUB 3 billion (around 67% of the total import by the company in 2021). PTC Therapeutics imported only one product, Translarna, a medicine for the treatment of Duchenne muscular dystrophy. Stada had the best growth rates among the top-20 companies (its imports grew 3.3 times). The company has a very diverse product range, and the import of Edarbi, a drug for the treatment of essential hypertension, reached RUB 4.5 billion in 2021, contributing to the company's growth rates the most.
As for in-bulk, the number of importers was 65. Orion Corporation (Finland) had the highest growth rates in monetary terms (imported increased 3 times), followed by Italfarmaco (2.7 times). The former imported two drugs, but Metypred, packaged at a Pharmacor Production facility in St. Petersburg, accounted for nearly 98% of the company's imports. Italfarmaco imported five products, with Gliatilin accounting for 87% of the imports. Like Orion Corporation, the company cooperates with Pharmacor Production for secondary and tertiary packaging. Nanolek is also worth mentioning, since its imports doubled. In 2021, the company imported two products—Hunterase, a drug for the treatment of mucopolysaccharidosis type 2, and the anticoagulant Cibor.
Growth rates of import of pharmaceuticals to Russia (EEU countries excluded), customs clearance and VAT included, RUB (2016—2021)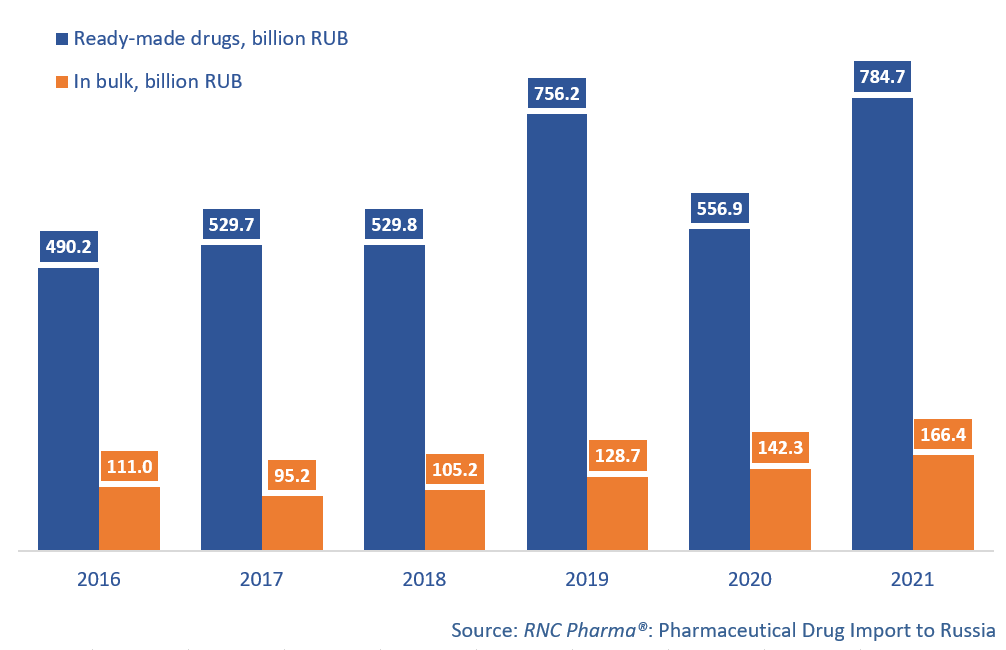 Share: