Database Update: Audit of Veterinary Drug Retail Sales in Russia (October 2022)
Thursday, December 1, 2022
In January–October 2022, the sales of veterinary drugs in the Russian retail market were 17.5 billion RUB (retail prices, VAT included), down 5.5% from the same period in 2021. That is an obvious result of the rush demand in March, the flow of consumers to the online segment, as well as dropping household incomes. In physical terms, the sales were 113.4 million minimum dosage units (MDU), down 21%.
October 2022 has shown the best results since the special military operation began, although the sales still went down. The sales, 1.63 billion rubles, declined 0.7% from October 2021. In physical terms, 10.9 million MDUs were sold, down 18.5% from October 2021—hardly a seasonal surge, because it began back in September, but was less prominent among other market trends. Yet, a certain increase in demand was still noticeable. The weather factor affected the demand as well—average temperatures in October 2022 were slightly above the climatic norm.
Laboratorios Microsules (Uruguay) had the best growth rates in monetary terms—its sales in January–October 2022 grew 2.6 times against January–October 2021. The company sold products for livestock, and the Calciomic vitamin and mineral complex contributed to the growth rates the most. Vetfarm (Belarus) had the same growth rates—the company mainly manufacturers products for small pets. Among the four brands sold in January–October 2022, Otibiovet, a drug for acute bacterial and fungal ear canal infections, helped the growth rates the most. Another Belarusian company, TM, rounds out the top three (its sales increased 2.2 times)—the manufacturer has an extensive portfolio of products for both livestock and pets. The sales of products for livestock had the best growth rates, in particular Sediminum Plus, a drug for the prevention of diseases caused by a deficiency of iodine, selenium, and other minerals.
Novaya Gruppa had the highest growth rates in physical terms—its sales went up 732 times against the comparison period. The sales of Myoxyl, a sedative drug for both pets and livestock, helped the company's growth rates. However, last year this product was practically not sold in retail pharmacies, which is why the growth was caused by problems in the import of the anesthetics Zoletil and Telazol this spring.
The volume of the Russian veterinary drug retail market (online sales excluded) in monetary and physical terms (January 2021–October 2022)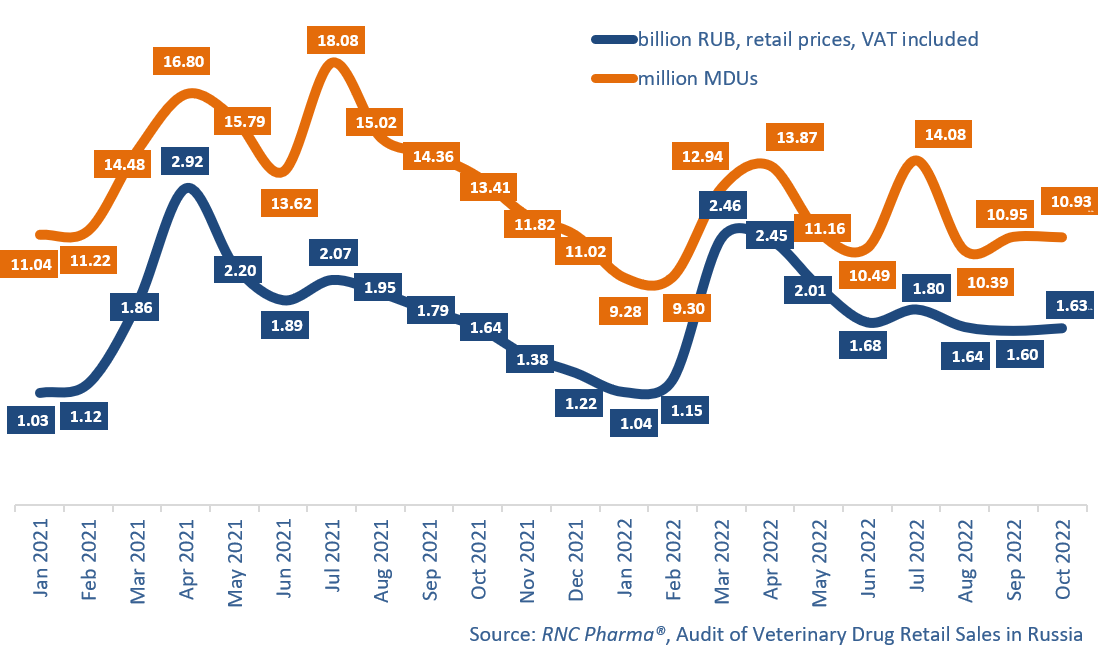 Share: