Survey by RNC Pharma and Doktor Na Rabote (Doctor at Work): 46% of Doctors Ready to Work in Medical Offices at Pharmacies if Decent Salaries Provided
Tuesday, October 1, 2019
In early September, Pharmacy Chain 36.6 announced a new project involving medical offices in pharmacies. These offices will be equipped in accordance with the therapeutic activity license, so that customers will be able to receive qualified medical care. The RNC Pharma analyst company, together with the Doktor Na Rabote (Doctor at Work) social network for doctors, conducted on online survey to find out under what conditions a doctor can consider working in those medical offices.
Many respondents (46%) are willing to take part in this project only if "decent salaries" are provided. "Reasonable patient flow per day" was the second most popular condition (13% of the respondents). Basically, the respondents talked about the two most pressing problems of the Russian health care system.
One in five doctors (21%), mostly specialists, would under no circumstances switch to work in a medical office at a pharmacy. However, only 8% of therapists and general practitioners are not ready to work in a pharmacy.
Under what conditions are you ready to consider working in medical offices at pharmacies? (single answer question)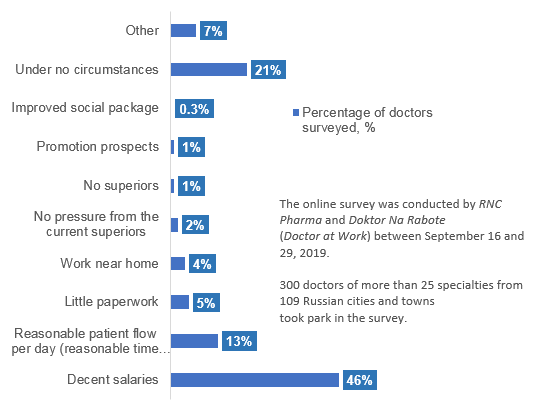 Share: