Database Update: API Import to Russia (March 2019)
Saturday, June 1, 2019
Between January and March 2019, Russia imported 25.4 bln RUB worth of APIs (free circulation prices, VAT included), which is in monetary terms (rubles) 15.4% higher than that of the same period in 2018. The dynamics is physical terms are -1.6% (in tons), with 2.6 thousand tons.
Despite the negative dynamics in physical terms, the import line has grown significantly. Between January and March 2019, Russia imported 392 INNs (against 378 in 2018), including 5 INNs that had not been imported until 2019. Among the newcomers, Gadopentetic Acid, which is imported by Russian Drugs Technology from South Korea for production of MRI contrast agent Gadopentetic Acid-TL, accounts for a big import volume, as well as Nicorandil, which is imported by PIK Farma as a commercial API from China for production of anti-angina medicine Cordinik.
Servier and KRKA are the absolute leaders in import volumes in monetary terms with 2.4 and 2.3 bln RUB, respectively (customs clearance prices, VAT included), but the difference in 100 mln RUB seems insignificant. While the import by Servier has dropped by 21% (in rubles), the import by KRKA has risen by 13%.
Dishman Group (India) has set an absolute record in dynamics in physical terms for the period with a 343 times increase. Its Bedaquilini Fumarate (around 346 mln RUB) was imported by Russian Pharmstandard for production of antituberculosis drug Sirturo. Novartis has increased their API import by 16 times; it imports APIs to Novartis-Neva in St. Petersburg. Its Vildagliptin (for production of Galvus and Galvus Met) accounted for most of the import; in total, the company imported 3 APIs over the period.
Among the "outsiders", Takeda imported only Actovegin; their dynamics in monetary terms are -37%, while their dynamics in physical terms are similar.
Read more about API import to Russia (February 2018) here: http://www.rncph.com/news/15_04_2019
Dynamics of pharmacopoeial and commercial API import to Russia, customs clearance prices (2016 – 2018, January – March 2019), bln RUB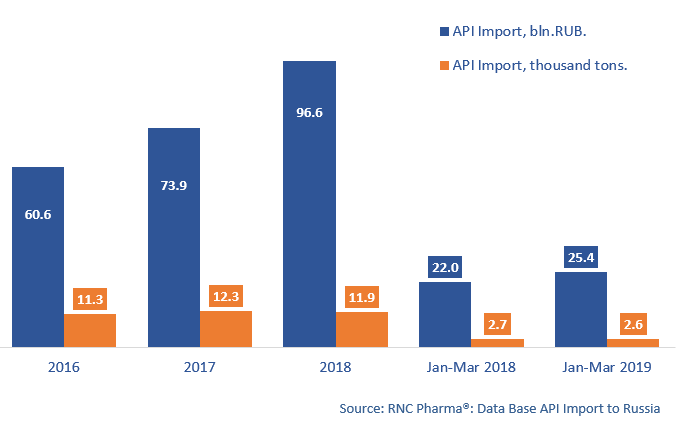 Share: