RNC Pharma: Large Russian Pharmaceutical Distributors to Start Investing in Production
Wednesday, March 1, 2023
The Russian pharmaceutical market yielded impressive results in 2022, having grown 12.9% in rubles. While the inflation rate was quite high, it still did not exceed all-time highs. The only problem is that these results were driven by political processes. When their influence more or less disappeared by the end of the year, the market was faced with vague economic problems, which led to a significantly lower demand.
Still, the crisis came even later than expected. There are even signs pointing out that the crisis will not last long, especially since the market has mostly prepared for these events. Furthermore, a number of distributors took this chance to develop their investment programs, focusing on those associated with production, not the online segment, like they did in the last couple of years. While the online segment is close to reaching its full potential within the existing legislative restrictions, it is not going to be abandoned, especially since an experiment with the online sale of prescription drugs is to be launched this year.
Yet, market participants intend to take advantage of the political circumstances around Russia that arose after February 2022. For example, R-Pharm continues to sign offset agreements in large regions of the country; in January 2023, the company won a state contract in St. Petersburg and another one in Moscow in February (however, the latter is currently being disputed in the Federal Antimonopoly Service by Biocad). Another prominent deal is Protek acquiring the manufacturer of pharmaceutical substances Bion in Kaluga Oblast first and then a minority stake in Active Component in St. Petersburg. It is not the first deal of this kind for Protek: in 2017, as part of a deal to purchase the production assets of Rafarma, the company acquired a production site in Chernogolovka near Moscow. The production site on the basis of the Research Center of Problems of Chemical Physics of the Russian Academy of Sciences was also used for the production of small batches of APIs. This is a complicated area, clearly aimed at import substitution, especially since recent events in the light of sanctions and changes in business approaches by European and American companies have given the Russian pharmaceutical industry a unique historical chance for development.
There are also talks of expansion of powers for procurement on the basis of the Federal Center for Planning and Organization of Drug Provision of Citizens. If this process continues to develops, the organization of the work of public pharmaceutical companies will also experience dramatic changes. While what constitutes the process is of course not known yet, it should stimulate import substitution first, and second, a centralized approach will be difficult to achieve without the logistics capabilities of large wholesalers, which means pharmaceutical distributors and related service structures will also have to develop.
Tab. Top 30 pharmaceutical distributors with the largest market shares of direct pharmaceutical drug supplies (including preferential supplies), in monetary terms in 2022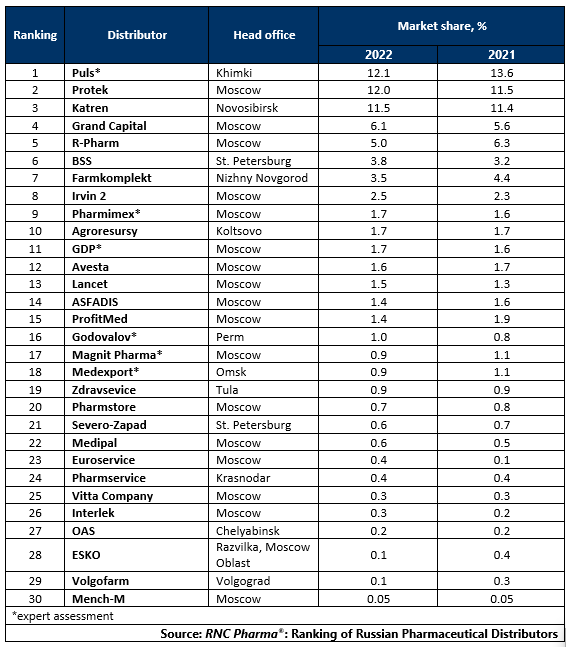 Share: